Posted on
Wed, Feb 8, 2012 : 5:43 a.m.
River Gallery showcases the lifetime achievements of U-M's Richard Wilt
By John Carlos Cantu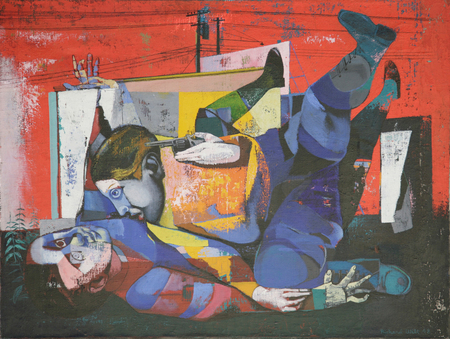 The visual arts career retrospective is always a tricky endeavor: A little too broad, and its substance is lost; a little too restrictive, and the life's work is stunted.
Avoiding these errors has made "Richard Wilt: Legacy (1915-1981) A Museum Gifting Exhibition"—at Chelsea's River Gallery—an unusually successful survey of this longtime University of Michigan art professor's oeuvre.
As Robert Inglehart, Ann Arbor News art critic, wrote on Feb. 15, 1981 (shortly after Wilt's death), he was at that time considered Ann Arbor's "painter laureate." And this is high praise, considering the level of local art in the last-half of Ann Arbor's 20th century.
But Inglehart's observation was on target. For there's an independence of thought in Wilt's work that doesn't fit the prevailing art trends of the time.
While American art was largely dominated by abstraction—figurative, gestural, and conceptual—Wilt was crafting a body of art that only touches on these styles of art. He explored these forms; appropriating what was useful for his purposes, and then discarded them in his development as an artist.
Thus, as Inglehart commented on Sept. 2, 1979 during an earlier retrospective, Wilt was most certainly a force unto himself.
"Over the years," writes Inglehart, Wilt's work had "undergone many stylistic phases, but not because of changing fashions or movements in the art work; one of the strongest impressions one gains from this exhibition (held at that time in the U-M Jean Paul Slusser Gallery) is that Wilt is a painter who has followed his own bent, and every direction he has taken represents a truly personal interest."
This fact is certainly on display at the River Gallery.
Wilt's work requires an exceptional venue for it to breathe. It's significant that the River Gallery has given lots of room to the 1940s-1950s, when he actively worked through various 20th century influences—ranging from a late formal synthetic cubism to the urban inflected social expression of Ben Shahn.
These artworks are each marked by a conscientious testing of color and form. And in the best of these artworks (for example, 1948's 30"x36" oil on canvas "Two Boys Fighting, Gun, Red Background") Wilt mingles his influences while retaining enough independence to make the topic his own.
As Gallery Director Deb Greer says, the impulse behind the display is to commemorate "a generous person and a great talent" whose paintings represent a "hard-won art."
Hard-won, indeed, as Wilt's work reflects a muscularity that savors every challenge.
There are two works in particular that represent Wilt at his best, which through the generosity of his wife, Ellen, and daughter, Robin (both excellent artists in their own right), will be dispersed to museums across the country after the show's run.
An acrylic and wolf carbon pencil painting from 1975, "Cows in Pasture near Monroton Pennsylvania," finds Wilt essentially clearing his throat—or perhaps, more accurately, clearing his eye—in an exceedingly calm mood. The pastoral nature of this painting couldn't be much more relaxed, with a judicious use of acrylics supplementing rather than competing with the pencil composition.
Yet even more proficient (and wisely claimed as a gift from the Wilt estate by the Pennsylvania Academy of Fine Arts) is Wilt's 1970 "Double Self-Portrait, Outward Pose" eight-panel diptych. If figuration is the most important exercise in art (and such was consistently claimed by one of U-M's most renown 20th century aestheticians and psychologists, Rudolf Arnheim), then portraiture is likely the single most important exercise in all figurative art. Wilt's "Double Self-Portrait, Outward Pose" certainly makes a strong case for this position.
In two extraordinarily perceptive drawings, Wilt crafts concentrated, insightful reflections. There isn't a shred of pretension in these masterworks—only a self-knowledge that only the most perceptive creativity could fathom. If only with these two drawings, Wilt's legacy is complete. It merely took a lifetime for him to find the extent of his vision.
"Double Self-Portrait, Outward Pose" is nothing less than the steely reckoning of one's soul. And this makes these remarkable portraits more than enough evidence of a superlative intellect.
"Richard Wilt: Legacy (1915-1981) A Museum Gifting Exhibition" will continue through Feb. 25 at the River Gallery, 120 S. Main St., Chelsea. Gallery hours are 11 a.m.-5 p.m. Tuesday-Friday; 11 a.m.-8 p.m. Saturday; and noon-4 p.m. Sunday. For information, call 734-433-0826.