Posted on
Mon, Nov 7, 2011 : 5:28 a.m.
Riverside Arts Center exhibit links science and art - via birds
By John Carlos Cantu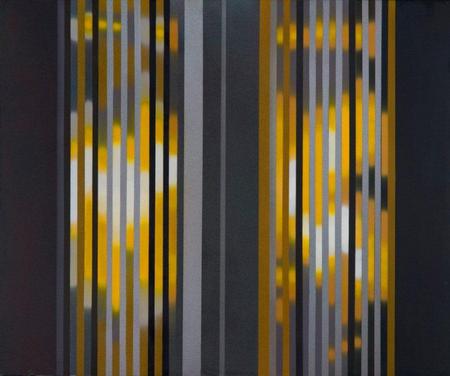 Carol Hanna
's exhibit "Songs of the Birds" at Ypsilanti's Riverside Arts Center Gallery creatively combines avian sight and sound.
"Several years ago," says Hanna in her Riverside artist's statement, "I was fascinated by colored stripe studies done in a class based on color. Later, walking along Northern Lake Michigan, I heard a beautiful bird song in the top of the trees and I was literally transfixed. After a period of reflection, I knew that I wanted somehow to transfer that sound into painting and decided to continue my earlier explorations of the stripe format."
Hanna's art works on two decidedly differing levels. On one hand, she's visited the University of Michigan's Biology Department to learn of each bird's habitat, habits and color. This diligence accounts for the base appearance of her painting. She then works with sonograms—that is, wave imagery based on ultrasound echo—to craft visual patterns that reflect the birds' calls.
But having worked out both these preparatory details, Hanna is only now ready to begin her art in earnest. "Within a species of bird," she says, "each has its variation of color and each has its variation of song. No two birds sing exactly alike. "The unequal chromatic distribution within each painting represent the bird's measures of time or rhythm, the pitch or frequency of vibrations per second, and the softness or loudness of the bird's call. These paintings are a means of visually sharing with the viewer the transcendental beauty and awareness of nature's song and color.
"The vibrating stripes and fuzzy edges (of the compositions) may be somewhat reminiscent of optical art, but they also contain an instant of recognition or a way of seeing 'with' the painting instead of looking 'at' it to bring into awareness of a fleeting moment of time."
Hanna has added a digital recording next to each canvas (via a small black box), which gives us an aural example of what she's depicting visually.
The gestalt works. Each bird's base color is reflected in the color pattern of the rectilinear painting. And each painting's vocal pattern is sufficiently distinct to represent the bird's vocal pitch.

The masterwork of Hanna's exhibit of 19 acrylic paintings is her 24- by 80-inch "Elegant Trogon" diptych. The bird has a brown head with a green chest next to white stripe around its waist that's complemented by a red lower body. Add a blue-greenish set of wings and this bird is certainly elegant.
Hanna's complementary painting has a tawny base upon which green, blue, and red oscillating lines have been airbrushed on its working surface. Wavering horizontally, these airbrushed lines—serving the same purpose as hard-edged geometric abstract line; although in this instance, tapered on their edges—mimic the Trogon's vocal pattern in much the same way musical notation represents a piece of music.
Above all else, "Elegant Trogon" is just the right horizontal length to cover the viewer's aspect perspective when viewed from the proper distance. Listening to the bird's call while concentrating on the canvases allows for the viewer's eye to effortlessly follow the painting's hovering internal line.
There's no way of knowing just how precisely accurate this geometrically abstract representation is the bird's actual call. Ultimately, this fact is of no consequence, because what's more important is Hanna's providing us with the visual link between science and art—nature and aesthetic. Her "Songs of the Birds" is a magnificent tribute to some of life's finest singers as well as her finely calibrated handiwork.
"Carol Hanna: Songs of the Birds" will continue through Nov. 30 at the Riverside Arts Center Gallery, 76 N. Huron St., Ypsilanti. Gallery hours are 3-8 p.m. Thursday-Saturday; and 1:30 to 4 p.m. Sunday. For information, call 734-480-ARTS.