Posted on
Tue, Feb 21, 2012 : 11:30 a.m.
Roots rocker Dave Alvin releasing concert CD, DVD recorded at The Ark
By Bob Needham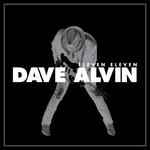 Respected roots-guitar whiz
Dave Alvin
is preparing to release an expanded edition of his album "Eleven Eleven"—and the bonus features have a distinct local flavor: a CD and DVD of Alvin's performance last July at The Ark, Ann Arbor's storied nonprofit folk-and-more venue.
As detailed on Alvin's page on the Yep Roc Records website, "Starting in May 2011, my great band, The Guilty Ones, and I hit the highways blasting and rocking our blues in every bar, theatre and joint that we could get into across America. Some of 'em we even hit twice! As you might guess, I love playing with this band and I think it shows in the live performance that was recorded last summer (2011) at The Ark in Ann Arbor. We were in Cincinnati the night before we taped this show, and we were in Chicago the night after, so this is a document of one night (mistakes, sweat and all) traveling down the endless interstate."
The CD and DVD are both from the same show, although the DVD contains one additional song. Both include concert versions of the Alvin favorites "Fourth of July" and "Out of Control."
Yet another bonus disc in the expanded "Eleven Eleven" package contains three additional tracks from the album's original recording session.
The new package is scheduled for release April 17, but it can be preordered now (for $29.99) from Yep Roc Records.
The Ark has hosted concert recordings before; for example, regional favorite Matt Watroba (now relocated to Ohio) started his recording career with "Live at The Ark", and popular national bluegrass band Mountain Heart recorded its "The Road That Never Ends" at the club.
Here's a sample of the Dave Alvin DVD footage, recorded last year at The Ark:
Bob Needham is director of entertainment content for AnnArbor.com. Reach him at bobneedham@annarbor.com or 734-623-2541, and follow him on Twitter @bobneedham.