Posted on
Sat, Sep 25, 2010 : 11:41 p.m.
Rosanne Cash plays on and off 'The List'; at déjà -vu-inducing Hill Auditorium show Saturday night
By Roger LeLievre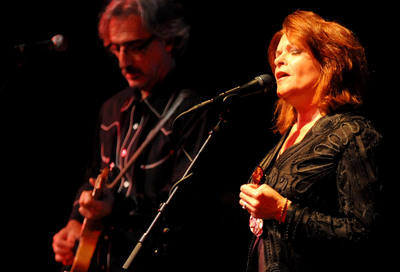 Angela J. Cesere | AnnArbor.com
It's not surprising I felt a sense of déjà  vu listening to singer Rosanne Cash and her band play Saturday night on the University of Michigan campus, but at least it was déjà  vu in a good way.
The show — presented by the University Musical Society — was basically an extended version of the one Cash offered in January as one of the headliners for the Ann Arbor Folk Festival. There was husband/guitarist John Leventhal, accompanying Cash to songs from her recent hit CD, "The List." And there were several other Cash tunes on the program, such as "Radio Operator" and "Seven-Year Ache," that were also on the Folk Festival bill. Then there was the venue itself — Hill Auditorium.
None of the above is a complaint, just a statement of fact. I would happily listen to this same show in another nine months.
If you are familiar with Cash at all, you probably know songs from "The List" were culled from a list of 100 classic-country/ folk songs that dad Johnny Cash told her she needed to learn, way back when she was just 18. The disc won Album of the Year at the Americana Music Association Awards on Sept. 9.
Cash opened the show with Hank Snow's "I'm Movin' On," and continued with Hank Cochran's "She's Got You" and Hedy West's classic "500 Miles." Bob Dylan's "Girl From the North Country," "Heartache by the Numbers" and "Miss the Mississippi and You," as well as the traditional tearjerker "Motherless Children" also followed. Since the CD included some duets, Leventhal stepped up for the Bruce Springsteen part on "Sea of Heartbreak" and the Jeff Tweedy part on "Long Black Veil."
Through it all, Cash was in superb voice, delivering new depth not only to her more familiar tunes, but also to classics like Bobby Gentry's "Ode to Billie Joe," which she speculated could have been No. 101 on her dad's list if that document had been carried forward past 1973. It always impresses me that Cash can inject so much depth and emotion into her songs, yet look like she is barely breaking a sweat. She manages to make it look so darned easy.
If I had one complaint I would say the band was too loud, but that may have just been a result of where I was sitting (left center, near the front). Leventhal's monitor wasn't far away, and it seemed to completely obliterate the keyboard player's contributions and often threatened to drown Cash out as well. That said, Leventhal delivered fine support on several guitars; his solo during the first encore, "Tennessee Flat Top Box," was blistering.
Brought back for a second encore, Cash delighted the audience with Harry Belafonte's decades-old, girl-power tune "Man Smart, Woman Smarter." Again, Leventhal was great on guitar, but his monitor all but blasted Cash off the stage.
If delivering a fine concert wasn't enough, Cash stayed after and signed copies of her new memoir, "Composed," in the lobby. It was a fitting grace note to an evening that was a classy act all the way.
Roger LeLievre is a freelance writer who covers music for AnnArbor.com.