Posted on
Wed, Feb 1, 2012 : 5:15 a.m.
Sabine Meyer, Trio di Clarone preview celebrating Mozart and more at Rackham
By Susan Isaacs Nisbett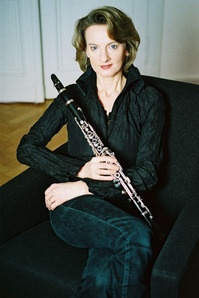 Curiosity must run in the family for clarinetist
Sabine Meyer
, former principal clarinet with the Berlin Philharmonic; her husband, clarinetist
Reiner Wehle
; and her brother, clarinetist
Wolfgang Meyer
. Back in 1983, it inspired these three distinguished players to form a trio, the Trio di Clarone, which makes its University Musical Society debut Saturday at Rackham Auditorium.
What they wanted to find out was what Mozart's Divertimento for Three Basset Horns—to be played on Saturday's program—sounded like "as originally meant and composed by him."
"All three of us were very curious about the sound of it," Meyer and Wehle wrote in an e-mail. "The transcription for three clarinets is very popular, but it was really hard to find the original score for three basset horns when we started this 'experiment.'"
They got their answer, and have been sharing it, in concerts on tour, ever since, along with solos, duos and trio for clarinet and basset horn. In addition to Mozart's Divertimento No. 1 for Three Basset Horns, Saturday's program includes transcriptions of Mozart arias from "Figaro" and "Cosi Fan Tutte; an arrangement (for two clarinets) of J.S. Bach's French Suite No. 5 in G Major; and works by C.P.E. Bach, Poulenc and Stravinsky.
PREVIEW
Sabine Meyer and the Trio di Clarone
Who: Acclaimed wind ensemble.
What: Music of J.S. and C.P.E. Bach, Mozart, Poulenc, Stravinsky.
Where: Rackham Auditorium, 915 E. Washington St.
When: Saturday, Feb. 4, 8 p.m.
How much: $22-$48. Tickets available from the UMS Ticket Office in the Michigan League, 734-764-2538, and online at ums.org.
The dark hues of the basset horn, a basso kissing cousin of the clarinet, made it a favorite instrument for Mozart, but easy to play it's not.
"The bores are closer together than on a clarinet body, therefore the instrument is much more sensitive, and playing it flawlessly needs more precision and self-control, Meyer and Wehle wrote.
In their e-mail, the pair answered questions about basset horns, clarinets and their trio. Here's what they had to say.
Q. What do you admire about the basset horn?
A. We especially like its airy and melancholic tone, which is very special and characteristic for the basset horn. Mozart also loved this tone color; you can often read about the basset horn as his favorite instrument.
Q. What are the challenges of trios and duos for clarinet, as opposed to other instrumentations?
A. There are no special challenges compared to other chamber music formations.
Q. How much literature is there for clarinet trio other than transcriptions?
A. There is not that much literature originally written for a clarinet trio except the Mozart Divertimento and the arias transcribed for wind instruments. We usually couple this classical literature with modern repertoire, and we like to try new formations, for example, with pianists, jazz clarinetists, or actors.
Q. What makes arias like the Mozart ones on your program good pieces to transcribe for clarinet/basset horn?
A. During Mozart's time there was a great tradition in transcribing arias for wind instruments. The arias we are playing in Ann Arbor had also been transcribed during Mozart's time.
Q. Playing with family members sounds great—any challenges here?
A. There are definitely more advantages than disadvantages. We have known each other for such a long time that we can often communicate without words. Usually there aren't discussions about how to play a note, because each of us knows beforehand what the other will do - especially between Sabine and Wolfgang, the strong bond between siblings is often apparent.