Posted on
Mon, Mar 5, 2012 : 5:18 a.m.
Saline Area Players bringing classic 'Carol Burnett Show' sketches to life on stage
By Jenn McKee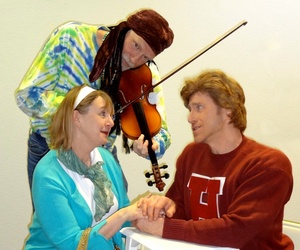 Photo courtesy of Saline Area Players
Variety shows have gone by the wayside, but one of the all-time best was "The Carol Burnett Show" (1967-78). And thanks to the
Saline Area Players
, locals will get a chance to watch 11 classic sketches from the show come to life on stage.
Included in SAP's show, "The Carol Burnett Show: Your Favorite Sketches" will be: "Went With the Wind," with Starlett O'Hara and Rat Butler; the soap opera parody "As the Stomach Turns"; Mr. Tudball and his secretary Mrs. Wiggins; and ornery, elderly Mama Harper, along with daughter Eunice and son-in-law Ed.
PREVIEW
"The Carol Burnett Show: Your Favorite Sketches
Who: Saline Area Players.
What: 11 classic sketches from "The Carol Burnett Show" - including "Went with the Wind" and the soap opera parody "As the Stomach Turns" - come to life on stage.
Where: Stone Arch Arts and Events, 117 S. Ann Arbor St. in Saline.
When: Thursday and Friday, March 8 and 9, at 8 p.m.; Saturday and Sunday, March 10 and 11, at 2 p.m., and a special dinner theater performance on Saturday, March 10 at 7 p.m. Doors open 30 minutes before each performance.
How much: $15. Dinner theater performance tickets cost $40 per person. For more specific information, including the dinner theater menu, visit www.salineareaplayers.org. (For a behind-the-scenes look at the process of mounting the show, visit Mary Rumman's blog, www.onandoffthestage.blogspot.com.) Advance tickets may be purchased at Maureen's Designs, at 101 S. Ann Arbor St. in Saline; via e-mail at tickets@salineareaplayers.org; online at the SAP site; or by phone at 734-904-1874.
"As a director, I decided that to do so many skits, we had to have multiple people playing roles created by Carol,
Vicki (Lawrence), Lyle (Waggoner), Tim (Conway)
and
Harvey (Korman)
," said director
Tami Hindes
in an e-mail interview. " … We are not imitating the actual people playing the roles but paying homage to them by re-creating the characters they made famous, with our own twists."
In addition to the 11 show sketches, SAP's show will feature five local sponsors' "commercials," written by Hindes; an opening monologue and closing piece; and an intermission that's Hindes describes as "a bit of a disco dance party for the audience."
"We have stayed true to the era of the show—the 70s," said Hinde. "So the costumes, set and language reflect that time period. So dig out your bell bottoms, your leisure suits and you'll fit right in."
This is Hindes' third show with SAP, and each one has been a comedy.
"This is my way of providing 'therapy,'" said Hindes. "Comedy is difficult because of the timing, and because humor is highly personal. What appeals to one person another might find offensive. So it's always a tightrope—a risk. But with this show - people will recognize the sketches. They're tried and true. People who remember 'The Carol Burnett Show' on TV will have fond memories, and those who are too young will be introduced to part of our comic past."
Jenn McKee is the entertainment digital journalist for AnnArbor.com. Reach her at jennmckee@annarbor.com or 734-623-2546, and follow her on Twitter @jennmckee.