Posted on
Thu, May 13, 2010 : 1:20 p.m.
Movie 'Salvation Boulevard' filming on U-M's campus
By Jenn McKee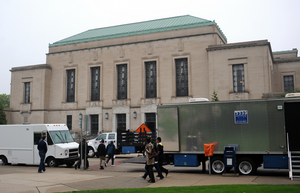 Melanie Maxwell | AnnArbor.com
"Salvation Boulevard" — a feature film starring Pierce Brosnan, Greg Kinnear, Marisa Tomei, Jennifer Connelly, Ed Harris and Jim Gaffigan — is shooting in Rackham Auditorium today and is expected to continue working around town for the next week.
At around noon, two actor stand-ins stood at podiums on Rackham's stage, as if engaged in a debate, and a third sat at a table between them, while crew members set up lighting for the scene. Dozens of extras were herded into the auditorium — at which point I was escorted out.
Yes, "Salvation" has a closed set, so curious film fans and stargazers will be turned away at the door (though I did steal a quick glimpse of Gaffigan standing in Rackham's lobby).
"Salvation," which is also filming in the Detroit area, tells the story of a former Deadhead-turned-born-again-Christian who finds himself on the run from fundamentalist members of his mega-church. Its Internet Movie DataBase entry describes it as a comedy/thriller. The director is George Ratliff of "Joshua" and "Hell House."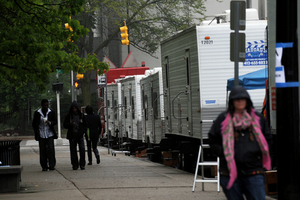 Melanie Maxwell | AnnArbor.com
According to the City of Ann Arbor, to which film companies must apply for road closures, "Salvation"'s team also plans to shoot at U-M's Law Quadrangle and a location on Fourth Street over the course of the next week. But the set will remain closed throughout the process — so we'll all just have to gawk from afar.
"Salvation Boulevard" is the latest in a string of movies to shoot in our area, since the state introduced an incentive program for the movie industry.
If you see any movie actors in town, we'd love to hear about it —Â leave a comment below or email jennmckee@annarbor.com.
Jenn McKee is the entertainment digital journalist for AnnArbor.com. Reach her at jennmckee@annarbor.com or 734-623-2546, and follow her on Twitter @jennmckee.