Posted on
Wed, Aug 11, 2010 : 11:12 a.m.
Sarah Swanson headlines next AnnArbor.com concert on the patio
By Courtney Rabideau

The patio of AnnArbor.com will continue to host its free noon concert series this week as the summer winds down. The August 13 event features indie singer-songwriter Sarah Swanson, whose "Dark Sunshine" has been described in promotional materials as "a blend of '70s West Coast rock and dark, soulful tunes."
Listeners have described Swanson's voice as a "haunting, strong presence." All songs on "Dark Sunshine" are, she has said, "intensely personal, yet universal."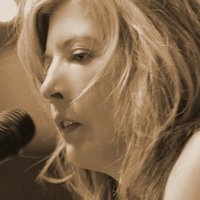 Swanson's musical experience began in her childhood, where she spent time writing, singing and playing music influenced by the 70s music collection of her parents, which was, she relates on her website, "laced with an edgy and often haunting alternative songwriter rock sound of today."
In both high school and college, Swanson played in cover bands and continued to write songs. Although Swanson eventually switched directions and focused on other interests for a few years, she never stopped writing songs in her spare time.
According to her website, Swanson met local guitarist Patrick Thomas at the Blind Pig, and the two married in 2002.
PREVIEW
Who: Local singer-songwriter.
What: Indie folk/pop.
Where: The patio at AnnArbor.com, 301 East Liberty Street.
When: Friday at noon.
How much: Free.
Thomas encouraged her to return to the studio, and they worked together on Swanson's album, "Dark Sunshine," produced at Big Sky in Ann Arbor.
This week, Swanson and her band will take the stage at our very own 301 East Liberty location, sharing the raw, emotional sound that has come to characterize her music with concert-goers who join in.
Listen to Sarah Swanson "Free" (MP3).
Courtney Rabideau is an intern for AnnArbor.com.