Posted on
Thu, Aug 26, 2010 : 5:53 a.m.
'Scream 4' turns local family's house into movie set for a month
By Julie Halpert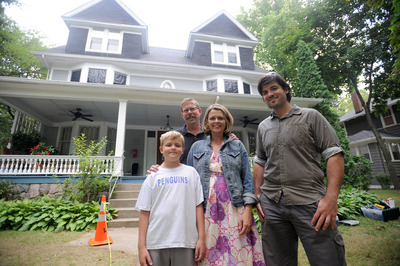 Angela J. Cesere | AnnArbor.com
As you walk down the long brick walkway toward the prominent front porch of Joe and Linda Tesar's home, built in 1910, it is easy to spot in the front garden the gallon jug container filled with a red substance and labeled "blood." This is not the type of item you would normally see on this Burns Park block a full two months before Halloween. But then, the Tesars' home is far from ordinary: For the past three-and-a-half weeks, it's been a primary filming location for "Scream 4."
From the time the Tesars bought this house 12 years ago, Joe Tesar has put endless hours of sweat equity into the place, transforming it from a beat-up duplex to a majestic older home — adding a porch; building a new garage, kitchen and bath; and installing new floors. Linda says the family sacrificed many trips because Joe, an engineer, was in the midst of a "house project." "We didn't go anywhere," she says, and "now the adventure has come to us."
The adventure began in May, when a location scout rang the Tesars' doorbell. Linda, who works as chair of the University of Michigan's Economics Department and is rarely at home during the day, thought it was a student asking her to sign a petition, but she decided to answer the door anyway. The woman explained that she was a location scout, and wondered if Linda would be interested in having her house as the filming location.
She thought Joe would never agree to have strangers tromping through the house he so lovingly restored. But Joe gave the proposal an enthusiastic "yes," intrigued by the prospect of getting an up-close look at how the industry works. Their children — 19-year-old Jack, 13-year-old Cal and 9-year-old Gabe — were just as enthusiastic, even though it meant moving to a house around the corner for nearly a month. "Sweet!" is what Gabe recalls saying, adding he saw it as "a once in a lifetime opportunity." Michigan became the location for "Scream 4" — the fourth entry in a popular tongue-in-cheek horror franchise, directed by Wes Craven — because of its generous tax incentive program to the film industry. Then, it was a matter of where the crew wanted to film.
Although some scenes have been filmed in Northville, Dearborn and elsewhere, Ann Arbor most closely resembled the fictional Woodsboro, where the "Scream" movies take place. It had that small-town, vibrant, friendly community vibe, said Logan Cooper, "Scream 4"'s location manager. He said the goal is to portray a town that's sweet and inviting, to show "how bad things happen in safe places."
The big challenge was to find two houses side-by-side where you could see out of one window into another. Cooper said that element is central to the plot, which he wouldn't divulge. He says there were "definitely moments of despair" as he drove around Ann Arbor and the Detroit suburbs for six weeks, looking at 40 pairs of houses, before he found the Tesars', which is directly adjacent to the house next door. Both houses have been used to film the movie.
Cooper says that while movies often film in neighborhoods like Burns Park, it's unusual for them to set up camp in a house like the Tesars' for this long. He says he and the film crew have enjoyed their time in Ann Arbor, heading to nearby places like Morgan and York, Zingerman's and the State Theater. The cast — which includes big names like Neve Campbell, Courteney Cox, David Arquette, Emma Roberts and Hayden Panettiere, have also been spotted around town; Arquette, in particular, has been vocal on his Twitter account about how he's enjoyed his time here. (The Tesars haven't really had an opportunity to interact with the cast.)
The neighbors also have been receptive to the process. "It's been a really positive experience filming here," Cooper says. "I'd definitely come back, though I'm not sure about the winter," adds the Austin, Texas native.
As soon as the Tesars approved the project, a team swooped in to redecorate their house, swapping new furniture, rugs and paintings for their own, as well as putting up wallpaper and repainting the walls. The filming, which took place over the last three weeks, generally occurs from 6 p.m. to 6 a.m.
"It's supposed to be a scary movie, and it's not scary in broad daylight," says Cooper. Each night, a film crew of roughly 80 descended upon the house, to the delight of neighbors, passersby, and the Tesars, who often hung out to watch the filming. Gabe recalls the thrill of seeing an actor wrestle with someone and then get pushed out of the upstairs window, her white shirt covered in blood — a scene re-enacted several times. "It's been a fun way to spend a summer," he says.
Joe says the film crew has been entirely professional, taking great care of his beloved house. Still, he doesn't recommend the experience to everyone, especially "if you're a private person." Linda says the month has been surreal. Sometimes, she'll go off to work and forget it's happening, only to be reminded when she returns and sees the huge trucks on her street.
After the filming wraps up — scheduled for Monday — a crew will enter the Tesars' house to quickly restore it to its pre-production status. And Linda admits she'll miss all the hubbub. It's called "post-cinematic separation anxiety," jokes Cooper, saying not everyone can boast about Wes Craven hanging out on their porch. When the celebrities go, and the crew that you've come to know just pulls out as quickly as they came, "the circus disappears and a lot of people are sad," he says.
Linda says she'd do it all again and is grateful to have had the experience: "It will be a memory for all of us for years to come."