Posted on
Wed, Jun 16, 2010 : 11:31 a.m.
Sole Transit headlines second AnnArbor.com concert on the patio this Friday
By AnnArbor.com Staff

The second entry in AnnArbor.com's free, Friday lunchtime concert series is Sole Transit.
Members of the band are Jordan Siden, guitar; Erez Levin, drums and percussion; Daniel Sagher, bass; Leif Gearhart-Hall, trumpet; K-Mo, tenor sax; Will Smith, tenor sax; and Paul Smith, keyboard. Levin recently agreed to answer a few questions about the band via email.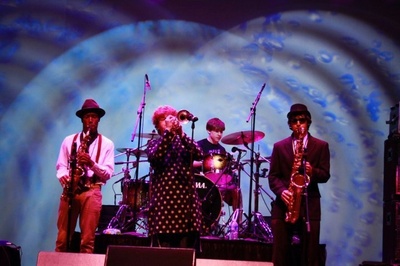 How long has the band been playing? How did you first get together? We played our first show nearly a year ago at the Ann Arbor Summer Festival''s Grassroots stage on July 4th. Jordan Siden (guitar) and I (Erez Levin, drums) started playing together about two and a half years ago, when I was in 7th grade, and he was in 8th. We jammed on Beatles and Led Zeppelin tunes and the like together for about a year, then decided that we wanted to put together a group. At the time, we were just starting to get into New Orleans brass-band and Second Line music, and were exploring jazz and funk as well, so we decided to go for a horn section.
What types of places do you normally play? We often play at the B-Side, the Neutral Zone venue. We've also done various outdoor gigs and appeared at Breakin' Curfew, which was a lot of fun.
PREVIEW
Who: Local seven-piece band.
What: Original mix of funk, jam, New Orleans, blues, jazz and rock.
Where: The patio at AnnArbor.com, 301 East Liberty Street.
When: Friday at noon.
How much: Free.
What do you say when people ask what kind of music you play? When asked what sort of music we play, we usually say something along the lines of New Orleans-funk-rock-jazz-blues. We all listen to each of those genres, and we try to incorporate them into our playing and composition.
Do you play covers, originals or both? We do both covers and originals. We started out with a couple of covers, and we soon started writing. Our first two songs were actually adaptations of "Folsom Prison Blues" and the "Sesame Street" theme, and we've done some classic rock songs in the past as well, but these days we usually stick to writing.
Who are your own favorite performers? Our favorites are the Dirty Dozen Brass Band, Bonerama, Led Zeppelin, Little Feat, Stanton Moore, Victor Wooten, The Roots, Dr. John, Toots and the Maytals, Miles Davis, and John Coltrane.
Watch a video of Sole Transit performing: