Posted on
Thu, Nov 24, 2011 : 5:09 a.m.
St. Joe's Market Cafe aims to raise the bar for hospital food
By Julie Halpert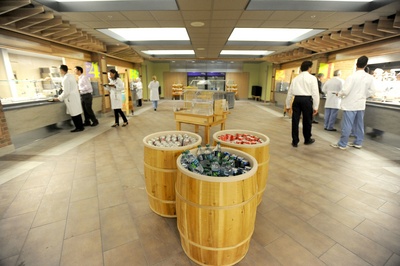 Angela J. Cesere | AnnArbor.com
I'll admit that when I was asked to review the St. Joseph Mercy Ann Arbor cafeteria, I was less than enthusiastic. I wondered if someone would really make the trip to eat there if they weren't a hospital worker or weren't visiting a patient.
The new
St. Joe's Market Cafe
, the result of a huge renovation effort, opened in September. It's located through the main entrance of the hospital, down a long corridor, a welcome respite from the more sterile hospital surroundings. As you walk in, a computerized, brightly colored mini billboard displays the day's specials.
RESTAURANT REVIEW
St. Joe's Market Cafe
in St. Joseph Mercy Ann Arbor Hospital, 5301 McAuley Drive
734-712-7047


Hours: Monday-Friday, breakfast is served 7-10 a.m.; lunch is served 11 a.m.-2 p.m.; dinner is served 4-7 p.m. On Saturday and Sunday, brunch is served 10 a.m.-2 p.m.


Plastic: American Express, Visa, Mastercard, Discover.


Liquor: No.


Prices: Inexpensive.


Value: Good. With the exception of the giant salads, portions are a healthful, modest size.


Noise level: Moderate.


Wheelchair access: Yes.
St. Joe's Market Cafe is trying to turn around what has historically been a common irony: healing centers that offer primarily unhealthy, unappetizing fare in their cafeterias. St. Joe's, which operates its own farm, is trying to reverse that trend, using seasonal items from its garden — including kale, pumpkin and eggplant — in its dishes.

The cafeteria was populated by some families visiting patients, as well as one patient tethered to an IV pole, when we visited. We arrived 45 minutes before closing on a weeknight, but already, all the entrees were gone and staff looked like they were in a hurry to shut down operations. Still, I tried to get as large a sampling as possible.

We first headed to the salad station. This alone is worth the trip. You choose among different types of lettuce and over two dozen ingredients, both basics like tomatoes and cucumbers to more exotic fare, like kalamata olives and artichoke hearts. Then it's hand tossed with your choice of salad dressing. Because each salad is made individually, and only one server was there, it took a while to get to our order, and this was during the slow period. The portion is so large it could be shared.
It was one of the most delicious, hearty salads I've had in quite some time, full of fresh ingredients and delicious dressing. I ordered mine with a plethora of items: walnuts, tomatoes, artichoke hearts, feta cheese, kalamata olives and baby shrimp, tossed in a delicious honey mustard dressing.

In addition to salads, there is sushi and a sandwich station, along with a yogurt bar (basically just yogurt in a big tin container surrounded by a few toppings) and pre-packed items like granola bars and rice Krispie treats, as well as a variety of packaged chips.

Once you gather all your food, you can sit in the spacious dining area. It's comfortable and eye-appealing, with exposed brick walls and a large mural of fruits and vegetables that surround the words, "Joe's Market Cafe."

The egg salad sandwich was quite good, flavorful and not saturated with mayonnaise. The turkey tasted fresh, though slightly dry. The sandwich bread was fresh. The potato soup was outstanding, thick, flavorful, laden with chunks of potatoes and slivers of vegetables.

The sushi is served in pre-packaged containers. The salmon roll seemed like it had been sitting out too long and didn't taste fresh. The shrimp roll was the standout, topped with crunchy shrimp tempura laden with a wonderful sauce. The dragon roll was spicy, and full of so many other ingredients, they overwhelmed the taste of the fish.

After my experience, I can't say I would necessarily make a special trip to dine here. But as I've found myself spending much time visiting my ailing father in another hospital with few options in the cafeteria, I'm happy it's there. The variety of healthful, generally high-quality food is a welcome treat for those who may find themselves in search of a nice meal in this environment. It sure beats stopping at a nearby Burger King.
Julie Halpert reviews restaurants for AnnArbor.com.