Posted on
Thu, Oct 11, 2012 : 8:09 p.m.
Stephanie Jass of Milan wins 4th straight 'Jeopardy!' - with an assist from Ann Arbor
By Bob Needham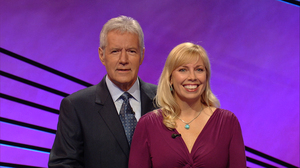 photo courtesy of Jeopardy Productions
The
remarkable run
of Milan's
Stephanie Jass
on
"Jeopardy!"
continued Thursday—and this time, Ann Arbor made a cameo appearance.
Jass won the TV game show for the fourth straight night, bringing her total winnings to more than $90,000. In the segment when the contestants chat briefly with host Alex Trebek, Jass said she hopes to use some of her winnings to buy a Chevy Volt.
The "Single Jeopardy" round of the show was somewhat competitive on Thursday, ending with Jass holding a slim lead of $5,600 to $4,800 for her nearest competitor.
One of the categories in the round was "Presidential Libraries," and Jass—a history professor at Adrian College—did well with it. When the clue "Ann Arbor, Michigan," came on the screen, she correctly responded that the city houses the library of Gerald Ford—leading Trebek to note, "Good thing you got that one."
Jass pulled away from her fellow contestants in the "Double Jeopardy" round, ending with $24,400 to $12,400 for her second-place challenger.
All three contestants got the "Final Jeopardy" question in the "Nonfiction" category wrong. (With a clue of "In an 1854 work, this title body of water was compared with the proportions of Loch Fyne," the correct response was, "What is Walden Pond?")
But Jass had wisely bet only $1,000, leaving her with $23,400 for the night and a four-day total of $90,170.
Jass' winning run will continue on Friday's episode. "Jeopardy!" airs at 7:30 p.m. on WDIV, channel 4 in Detroit.
Bob Needham is director of entertainment content for AnnArbor.com. Reach him at bobneedham@annarbor.com or 734-623-2541, and follow him on Twitter @bobneedham.