Posted on
Fri, Apr 15, 2011 : 10:02 a.m.
A tour of historic Stooges sites as Ron Asheton memorial concert nears
By Will Stewart
When the Stooges arrive in Ann Arbor for their sold-out homecoming show at the Michigan Theater on Tuesday, they'll return to a city that bears little resemblance to the sleepy college town in which both Iggy Pop (nee James Osterberg) and drummer Scott Asheton (and his late brother, guitarist Ron Asheton) were raised.
It can be hard to remember Ann Arbor without chain coffee and sandwich shops, or with an influential music scene that would spawn breakout groups like the MC5, SRC, Bob Seger … and an unlikely band of misfits, who, despite an abject lack of record sales, would endure as the primary architects of punk rock and eventual Rock and Roll Hall of Fame inductees: The Stooges.
Still, if you squint just right and set your imagination free, you may be able to conjure a vision of the Ann Arbor where Osterberg transformed himself from an athletic, bookish honor student at Ann Arbor High School into a "street-walking cheetah with a heart full of napalm."
Join us now for a tour of some of the landmarks — some standing, some long gone — that defined the Stooges' time in their hometown. We'll run them down in generally chronological order:
Coachville Gardens - Tucked away on the east side of Carpenter Road south of Packard in Pittsfield Township, this modest mobile-home park was where Osterberg grew up as an only child of working parents. He could often be found playing golf with his father at Pat's Par Three course, which is now the driving range at Miles of Golf.
The Asheton Family Home - 100 block of Highlake Ave. - Osterberg knew Ron and Scott Asheton from the local music scene. Ron Asheton played guitar in the Chosen Few and was known around down for his mod fashion sense. Beginning in 1967, Osterberg would take a bus from Coachville Gardens to rehearse with the Ashetons in their basement and the three would eventually add the Ashetons' neighbor, Dave Alexander, to the mix, forming the nucleus of the original Stooges. Ron Asheton died in this house in 2009.
The Alexander Family Home - 2900 block of Mason Ave. - Stooges bassist Dave Alexander grew up here. After he was ousted from The Stooges following the disastrous Goose Lake International Rock Festival, he returned here to live with his parents. Alexander died in 1975 of a pulmonary edema that was linked to his heavy drinking.
Tappan Middle School - 2251 E. Stadium Blvd. - It was here at Tappan that Osterberg began life in he public eye, first being elected vice president of his class, then as the drummer in his first band, the Ventures-inspired Megaton Two.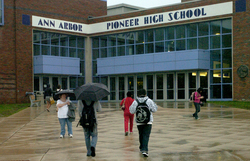 AnnArbor.com file photo
Pioneer High School - 601 W. Stadium Blvd. - Or Ann Arbor High, as it was known then. Here Osterberg lived an almost double life, playing on the golf team and taking college prep classes (he would be accepted to the University of Michigan upon graduation) while playing drums in the blues-inspired Iguanas on weekends. His classmates included roots-rock guitarist Bill Kirchen. Alexander and the Asheton brothers also attended Ann Arbor High — when they weren't cutting class or serving frequent suspensions — as did another future Rock and Roll Hall of Fame inductee, Bob Seger.
Discount Records - 300 S. State St. - While still attending Ann Arbor High, Osterberg worked at this legendary Ann Arbor record shop, which was one of the central meeting places for Ann Arbor's would-be rock stars. It was here that Osterberg would meet such notable movers and shakers as Jeep Holland, founder of Ann Arbor Records, and manager of Osterberg's post-Iguanas band, The Prime Movers, as well as future Stooges saxophonist Steve Mackay. Although Discount Records remained well into the 1990s, the site is currently occupied by Potbelly sandwich shop.
Blakely Court - Unknown Address - In 1966, Osterberg, by now the drummer in the popular local band The Prime Movers, and known as Iggy, lived in an apartment on this tiny street off of Division Street north of Hill Street. If anyone knows which building the apartment was in, please let us know.
University of MIchigan athletic campus - South State St. - In 1967, Osterberg — who had detoured to Chicago, where he abandoned his plan to become a blues drummer in favor of fronting his own band with the Ashetons and Alexander — attended a concert by The Doors, where he was struck by the stage presence of the band's enigmatic and unpredictable lead singer, Jim Morrison. (While the book "Please Kill Me" identifies the concert as taking place at Yost Field House, it may actually have been at the nearby Intramural Sports Building.) Years later, after Morrison's death, Iggy Pop was considered as Morrison's replacement in the band, although such a union never materialized.
The First Stooges House - 1324 Forest Court - The band lived and practiced in this two-story house, which they sublet during the summer of 1967. According to Joe Ambrose's "Gimme Danger, the Story of Iggy Pop," it was here that the band came up with its name, while watching a Three Stooges marathon on TV.
The Fun House - 2666 Packard Road - The legendary Fun House was actually out on the outskirts of town when the band moved into it in 1968. It was also known as Stooge Manor and housed not only the band and its gear, but also manager Jimmy Silver and his wife and child, as well as various roadies and insiders. Pop lived here with his wife during that brief union and, later, singer and model Nico lived here briefly with Pop. Nico's cult video for her song "Evening of Light" was recorded in the cornfields behind the house. The Fun House was eventually torn down.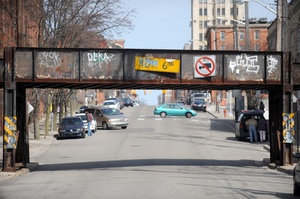 Angela J. Cesere | AnnArbor.com
Washington Street Bridge - West Washington Street - Scott Asheton was driving the Stooges' equipment van home from a gig with two roadies, when the top of the van failed to clear the underside of the railroad trestle. All three occupants were injured and sent to the hospital and the next day, according to "Please Kill Me: The Uncensored History of Punk."
Michigan Union Ballroom - 530 S. State St. - During October 1968, Elektra Records "company freak" Danny Fields arrived in Ann Arbor to scout the MC5 as a possible label signee. On the advice of MC5 guitarist Wayne Kramer, he caught the MC5's "baby brother band," the "Psychedelic" Stooges show at the Union Ballroom. Fields was knocked out by what he saw, setting the stage for what would happen the very next day.
White Panther House - 1510 Hill St. - Both the MC5 and the Stooges (the word "Psychedelic" was left off the contract) were signed by Fields to Elektra Records in the kitchen of this mansion, which served as headquarters for John Sinclair's White Panther Party and the MC5's headquarters.
Wolverine Tower - 536 S. Forest Ave. - Pop lived in this high-rise apartment complex during the latter days of the original Stooges lineup; it was conveniently located across the street from a (now long-gone) all-night diner, Biff's, where Pop had a connection to buy drugs.
The Michigan Theater - 603 E. Liberty St. - And the circle is completed. Four decades later, the Stooges — minus the late Ron Asheton, in whose memory the concert is dedicated — return to their old stomping grounds for a triumphant and somewhat bittersweet tribute to their fallen guitarist.
We hope you've enjoyed this tour around the Ann Arbor the Stooges knew some 40-odd years ago. If you have other locations that you'd like to add, please let us know.

View The Stooges in Ann Arbor in a larger map
This report was gathered from a variety of sources, primarily "Iggy Pop: Open Up and Bleed," by Paul Trynka; "Gimme Danger: The Story of Iggy Pop," by Joe Ambrose; and "Please Kill Me: The Uncensored Oral History of Punk," by Legs McNeil and Gillian McCain, as well as no small amount of local folklore. Special thanks to local musician and rock 'n' roll true believer Chris Taylor for his geographical expertise.