Posted on
Fri, Jan 20, 2012 : 5:55 a.m.
Sundance USA film 'For A Good Time, Call ... ' coming to the Michigan Theater
By Jenn McKee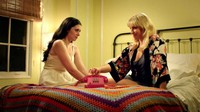 Local cinephiles who can't make the trip to Utah this year for the Sundance Film Festival will nonetheless be able to have a Sundance experience when the 2012 SFF selection "For a Good Time, Call …" gets a screening at the
Michigan Theater
on Jan. 26, after which director
Jamie Travis
will discuss the film and answer questions.
As part of the third annual Sundance USA program—a program that sends 9 different SFF films (and filmmakers) to 9 different art-house theaters across the country while the Festival is still happening in Utah—"Good Time" will have its world premiere screenings at SFF, where Michigan Theater executive director and CEO Russ Collins will likely see it before making the trip back home for Ann Arbor's Sundance USA event.
But even a movie lover like Collins has his limits. "The most movies you can see in a day is 5 or 6, and my experience is that, if you see more than 2 movies in a day, going to movies resembles work more than fun," said Collins, who estimates that he'll see approximately 20 (mostly industry) screenings while spending nearly a week at this year's 10-day festival.
"Good Time" stars Ari Graynor, Seth Rogen, Justin Long, and Lauren Anne Miller and tells the comic story of two women who move in together and start a phone-sex business.
"The Sundance Film Festival has done a really wonderful job of picking films for Ann Arbor," said Collins.
So what makes "Good Time" a good fit for our area?
PREVIEW
Sundance USA
What: As the Sundance Film Festival is happening in Park City, Utah, 9 of this year's films, and their filmmakers, will travel to art theaters in different parts of the country to screen the films and answer questions from the audience. The Michigan Theater's Sundance USA selection this year is "For a Good Time, Call … ", which stars Ari Graynor and Lauren Anne Miller (who also wrote the screenplay with Katie Anne Naylon) as two friends who move in together and pursue a wildly unconventional business venture. Q&A with director Jamie Travis will follow the screening.
Where: Michigan Theater, 603 E. Liberty St.
When: Thursday, Jan. 26 at 7:30 p.m. (A second Sundance program of short films will be screened on Sunday, Jan. 29 at 7 p.m.)
How much: $15, available at Ticketmaster.com and 800-745-3000. (A package for both Sundance events is available.)
"The fact that we're pretty close to Canada," said Collins, who noted that the film's director hails from Toronto. "That kind of ethos is baked into who we are as Michiganders. It's also a film about a couple of young ladies not too long out of college, so there's a youth angle to it."
And while Travis may not a household name as a director, he is, according to Collins, considered to be one to watch.
"('Good Time') is, like the Duplass brothers' 'Cyrus' (which played at the Michigan as part of Sundance USA two years ago), his breakthrough film in terms of wider public recognition," said Collins. "He's well known in the film festival world for his creative short films. That was his ticket to get the opportunity to make a feature length film that will get broader release. So you're on the cutting edge, which you want to be at a film festival."
Just before this year's SFF kicked off on Jan. 19, though, Collins once again chaired the Art House Convergence—a national conference in Midway, Utah, that since its recent inception has grown by leaps and bounds.
"We have 280 delegates this year, from about 120 art houses," said Collins. "Five years ago, when we started it, 25 delegates came."
In Collins' opinion, this growth is the result of more and more movie theaters embracing a nonprofit model, despite their roots in the for-profit sector.
"When I started in arts administration school, back in the 1970s, there was still this kind of notion that, if you really know your audience, you don't need to fundraise," said Collins.
But when this idea was disproved, and increasing numbers of commercial art house theaters struggled, theater owners took notice of how other cultural institutions maintained viability and followed their lead, resulting in an industry that's now heavily adopted its nonprofit status.
At the Convergence, theater owners can address issues specific to their industry, and share ideas and resources.
"And that's really, I think, what has resonated," said Collins. "It was about doing the right thing at the right time, when people were ready to receive the message."
One last Michigan Theater-Sundance connection is a program of standout Sundance short films from the 2011 Festival, screening on Sunday, Jan. 29 at 7 p.m.
But "Good Time" is the main event. And just as football fans in Michigan Stadium often hear about being the biggest crowd watching a football game in the country, attendees at the Sundance USA event at the Michigan Theater will very likely be the biggest single audience for a SFF film.
"We are the biggest venue in the Sundance venue roster," said Collins. "We're bigger than any other Sundance USA venue in the country - most of them are 200-300 seats - and we're bigger than any venue in Park City, where the biggest is a 1,400 seat theater in Park City that's a high school auditorium."
Hear that, (SFF founder) Robert Redford? Let's keep those Sundance films coming to Ann Arbor, please.
Tickets are available via Ticketmaster.
Jenn McKee is the entertainment digital journalist for AnnArbor.com. Reach her at jennmckee@annarbor.com or 734-623-2546, and follow her on Twitter @jennmckee.