Posted on
Fri, Jan 27, 2012 : 1:36 a.m.
Good times had at Sundance USA screening of 'For A Good Time, Call ... '
By Jenn McKee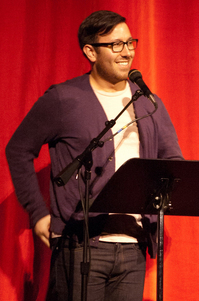 Director Jamie Travis spoke at Thursday's Sundance USA event at the Michigan Theater. Charlie Edwards for AnnArbor.com
A near-capacity crowd at Thursday night's Sundance USA program at the
Michigan Theater
didn't just get treated to a raunchy female comedy, fresh from the ongoing Sundance Film Festival (and a newly-minted distribution deal with Focus Features), but also a surprise guest and some behind-the-scenes dirt on a couple of stars.
The evening's initial attraction, though, was "For a Good Time, Call … ", which tells the story of two young women who initially share two things: a close mutual friend (played by Justin Long), and a bad first experience with each other. When Katie (Ari Graynor) needs a roommate for financial reasons, and Lauren (Lauren Anne Miller) gets dumped by her boyfriend, they grudgingly agree to live together—a decision that eventually leads them to open a phone-sex business together and become friends.
After Thursday night's film screening, director Jamie Travis (who had a short film featured in last year's Ann Arbor Film Festival) and screenwriters Miller and Katie Anne Naylon took their places on the Michigan Theater stage, and Travis revealed the evening's surprise guest: no, not Miller's husband Seth Rogen, who makes a cameo appearance in the film, but Farmington Hills native and U-M theater and drama grad ('07) James Wolk, who plays the role of Charlie, Miller's tactless, self-involved boyfriend.
The post-screening talk began with an explanation of how the project initially got under way.
Miller noted that although she and Naylon initially tried to develop the movie within the studio system, they decided a year ago to make it themselves. Miller's brother, who works in finance, raised enough money last June to get them started, and then the film was shot in 16 days in August.
"My agent sent me the script," said Travis. " … He'd sent me scripts for years, all of which were extremely unsatisfying and also very testerone driven. And I loved how, estrogenic ('Good Time') is. When I read it, I fell in love with it. I loved how dirty it was, and sweet at the same time."
In this clip, Travis talks about casting, and how he originally offered Long the role of Sean, the phone sex line's regular customer who gets involved with Katie.
When asked what they were all working on next, Naylon said that she and Miller were working on a musical version of "Easy A," while Wolk's first appearance on the primetime network comedy "Happy Endings" airs February 8. Travis, finally, got a big laugh when he confessed, "I'm actually going to Canada in few hours to do a KFC commercial."
One audience member asked Miller about Rogen's recent, raunchy ad lib on the Golden Globe Awards. (He said, essentially, that he was hiding his physical arousal.)
"Basically, they didn't write him a joke, and about 10 minutes before he went on, (someone) said, 'You're not going to say something funny?' And he was like, 'I guess I should.' So then, he spent the next three minutes thinking, and then he turned to me and said, 'What if I say this?' and I said, 'Well, that will get attention.' And then he said it. … Because he was standing next to Kate Beckinsale, the most gorgeous woman on the planet."
Similarly, an audience member asked if the filmmakers heard any gossip about Tom Cruise from cast member Mimi Rogers, who played Miller's mother in the movie, and was Cruise's first wife.
"On the last day of shooting, I asked (Rogers) if she could give us any dirt on Tom Cruise, and she said, 'He really likes riding motorcycles,' and then she winked at me and tapped my leg," said Naylon. "I don't know what it means, but … "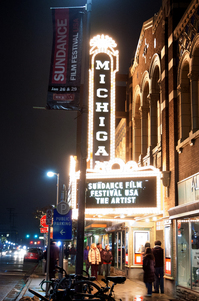 Among those in the crowd on Thursday night were about 30 students from the University of Toledo, including
Mike Koludrovich
, 19.
"I thought ('Good Time') was hilarious," Koludrovich said. "So witty. … I will definitely see that in theater again."
Meanwhile, Ann Arbor's Cathy Renaud, head of Greenhills Upper School, and Bob Winning, a biology professor at Eastern Michigan University, also had complimentary things to say about the film.
"We loved it, but we were glad we didn't have with our kids with us," said Renaud. "They're too young."
Describing "Good Time" as "raunchy in a good way," Winning agreed that the film may have benefited from, well, good timing, in regard to a certain female-centric comedy that found box office success last year.
"There were a lot of parallels between 'Bridesmaids' and this kind of movie: strong female leads, and breaking out of the typical female, more demure kind of roles. So I think ('Bridesmaids') may have broken some ground for a movie like this."
Jenn McKee is the entertainment digital journalist for AnnArbor.com. Reach her at jennmckee@annarbor.com or 734-623-2546, and follow her on Twitter @jennmckee.