Posted on
Thu, Sep 9, 2010 : 8:59 p.m.
UMS' "Susurrus" is far from your typical stroll
By Jenn McKee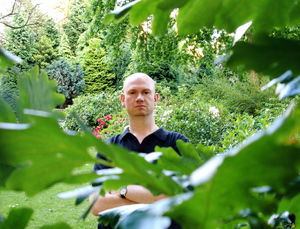 British playwright
David Leddy
- creator of
"Susurrus,"
now on offer at
Matthaei Botanical Gardens
, presented by the
University Musical Society
- was on-hand for an interview after a handful of locals got a first glimpse at the unconventional show on Thursday. (Each patron gets a map and an MP3 player with headphones, and they listen, after arriving at eight different designated locations in the Gardens, to 4 actors performing dialogue. The routes are well-marked with signs along the way.)
Before the interview got underway, I asked whether "Susurrus" would ever get canceled because of rain. The answer's no - only lightning halts the proceedings. And in fact, according to Leddy, many who've experienced the show in the rain - with umbrellas provided on-site - have reported having an even more vivid experience with the show's dark, adult story.
"We don't often allow ourselves to enjoy rain," said Leddy, noting that we're normally rushing through it from one sheltered space to another.
The same basic principle applies to "Susurrus" itself, in that it feels strangely luxurious to be strolling the gardens, listening intently to a story as it unfolds, as well as to musical selections from Edith Piaf, Nat King Cole, and Benjamin Britten's operatic score for "A Midsummer Night's Dream." (The music is provided after each segment of dialogue, for your walk to the next destination.)
The grandeur and beauty of the natural surroundings - monarch butterflies fluttering over tall grasses; a duck coasting among a pond's lilypads; a bee climbing up a flower's petals - seem perfectly suited to the musical interludes, which sometimes play you through a relatively lengthy hike (I advise wearing comfortable shoes); and the intense intimacy of hearing, in low tones, perspectives from one damaged family in your head is, at times, almost like listening to your own thoughts.
But to quote a far more traditional play, attention must be paid. Leddy's story never spoon-feeds the listener, but instead offers seemingly disparate threads that you must patiently weave together while waiting for the next piece of the puzzle to reveal itself.
The primary story involves two grown siblings, a brother and a sister, who'd been adopted as children by a famous opera singer and his wife. (Shakespeare's "A Midsummer Night's Dream" haunts this narrative, after one character ponders why Oberon is so intent to possess the young Indian changeling prince given to Titania.)
Additionally, there are insights and observations from a female, ensemble opera performer, as well as a male "researcher" who meticulously details his dissections of sparrows.
How does each narrative play off and inform the other? That's something I'm still thinking about - which isn't necessarily a bad thing, obviously. And when I compared notes with two friends who were experiencing the show at the same time, there was some confusion about certain details, and who was who.
This made me wish I could start from the beginning of "Susurrus"' 90 minute program again, now that I had at least a loose sense of the main story.
But my guess is that Leddy not only anticipates but welcomes these ambiguities. Just as we tend to think that rain would ruin an outdoor experience rather than enhance it, I think we all assume that having each character neatly assigned their place in a story would be more satisfying than being left with narrative uncertainties.
And really, one of the wonders of "Susurrus" - besides thoughtfully raising questions about precisely how much you can strip away from a show and still consider it to be "theater" - is the way the listener participates in its ultimate meaning and marries the narrative with the changing, visible landscape.
When the female opera singer mentions tasks that include "watching the children," for instance, a little boy and a little girl, followed by their mother, suddenly bounded like puppies into my view. Such happy coincidences feel like magic when they happen.
Even without them, though, "Susurrus" would be a pretty unforgettable walk.
Jenn McKee is the entertainment digital journalist for AnnArbor.com. Reach her at jennmckee@annarbor.com or 734-623-2546, and follow her on Twitter @jennmckee.