Posted on
Thu, Apr 5, 2012 : 5:58 a.m.
Take a stand with Take Back the Night or check out arwulf arwulf
By Ann Dwyer
ENTERTAINMENT
Enjoy "Live Jazz and Soul Food" at the James Crawford Elks Lodge. Thursday and Friday, 5 to 10 p.m. Saturday 4 to 10 p.m. The kitchen offers soul-food main dishes and sides. Fridays feature the Tim Haldeman Trio. Following the live music, most nights feature DJs starting at 10 p.m. No cover, cost of purchases. The lodge is at 220 Sunset Road, Ann Arbor.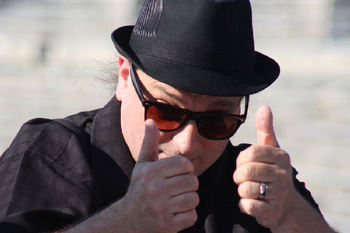 LECTURE
The Penny Stamps Lecture Series will presents jazz pianist Shelly Berg at the Michigan Theater. 5:10 p.m. Berg has collaborated with vocalists such as Nancy Wilson, Bobby McFerrin and Dionne Warwick. He also composes for television and film Free. The Michigan is at 603 E. Liberty St., Ann Arbor. 734-668-8397.
MUSIC
arwulf arwulf and the University of Michigan's Creative Arts Orchestra will be at the Work Gallery. 7 p.m. This live broadcast of arwulf's experiential radio program Face the Music will feature his presentation of an "Ann Arbor Eye and Ear Report." After delivering the report, he will use his voice for poetry and improvisatory collaboration with the Creative Arts Orchestra. Free. The Work Gallery is at 306 S. State St., Ann Arbor. 734-763-1265.
RALLY
There will be a "Take Back the Night" rally at the University of Michigan Diag. 7:30 p.m. Rain or shine. Come early to check out supporting organizations. There will be performances by U-M's Cadence and by the band I-Khonz. A march thru campus and downtown Ann Arbor will follow immediately. TBtN aims to stamp out sexuall assault. Free. The Diag is near North University and South State streets. Ann Arbor.
FILM
There will be a film screening and discussion of "Reefer Madness" at the University of Michigan's Angell Hall. 7-10 p.m. See the funny-without-trying propaganda film that tried to show that weed can lead to madness and murder. Free. In Auditorium A at 435 S. State St., Ann Arbor.