Posted on
Mon, Feb 20, 2012 : 5:31 a.m.
MathGames collaboration bringing fusion of jazz and electronic music to the Blind Pig
By Jennifer Eberbach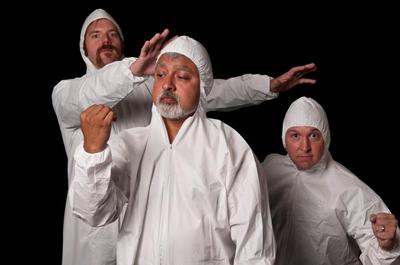 Check out a sample of MathGames music at the end of this post.
A unique mix of musicians will converge at the Blind Pig for MathGames on Feb. 23, the "jazztronic" project of renowned Moog guitarist Fareed Haque. He is joined by local keyboardist and Macpodz member Jesse Clayton. Special guest Ray White, known by many for singing and playing rhythm guitar for legendary experimental musician Frank Zappa's band, rounds out the show's jazz, funk, and electronic music-inspired sound.
MathGames most often consists of Haque and two other members of the Flat Earth Ensemble, Alex Austin and Greg Fundis. But the collaborative project has also featured other musicians. Austin and Rob Dicke are planned to join Haque, as well as visuals by Craig Pessolano, according to event's Facebook page.
White and Clayton have both performed in the band at previous engagements. White was on the bill for a show at Founders Brewery in Grand Rapids last year. And although Clayton was only supposed to sit in on a couple of songs that night, "Fareed kept calling me up on stage to sit in," he recounts. Clayton first connected a couple of years ago, when he opened for MathGames at the Elbow Room along with Brennan Andes and Griffin Bastian (also from the Macpodz).
"You have to keep your eyes and ears wide open when playing with Fareed. He's just a maniac with his instrument, so you don't want to clutter the space too much. He's got a lot of Indian music influences, which is a whole different system of scales and what-not. He can go off into this whole other universe of music," Clayton says.
PREVIEW
Fareed Haque's MathGames
Who: Guitar virtuoso from Chicago and friends.
What: "Jazztronic" music.
Where: Blind Pig, 208 S. First St.
When: 9 p.m. (doors) Thursday, Feb. 23.
How much: $10 cover.
It is something different for Clayton, although he agrees that his style of playing music "meshes well" with the group's sound. "I'm figuring out ways to infiltrate it and make a blend happen. Haque never tells me what to do, but we communicate through playing the music," he explains.
"Ray White and I have stayed in touch. I suggested doing another show, and he was totally into it. I called Fareed, and he was pumped," Clayton says.
Returning just recently from a trip to the west coast, Clayton caught a MathGames show in Chicago. "I sat in for a tune at the very end," he says. "I wanted to make sure I heard their most up-to-date stuff. I have a recording from the summer that I've used to practice, but since then there are already new things coming out of the group.
"The bar gets raised every show," he says.
With White on the bill, "it's a heavy gig!" Clayton says. "It was something I wanted to pursue because I was really interested in the style of music and extremely high caliber of their playing. For me, it's almost like an apprenticeship. Playing with good musician is how you learn."
The word is that the show might include a cover of Frank Zappa's tune "City of Tiny Lights," which White is known for, and possible some of his original songs.
They do not practice together, but Clayton has been 'training' for the show out at his dad's place in Chelsea. "I'm playing along with recordings of their songs, but I'm also preparing to go off on tangents and play solos," he says. Some of it is learning actual songs, but a lot of it is "understanding the basic structure, key changes, things like that," so he can be ready for whatever gets thrown his way in the moment, he explains.
The musicians will be accompanied by lights and video projections that give off an otherworldly glow fitting to the music. "They have these two giant white balls that hang from the ceiling. The projection wraps around those, like a tripped out disco ball," Clayton says.
Check out a sample of MathGames music: