Posted on
Thu, Nov 4, 2010 : 11:29 p.m.
Tallis Scholars delightfully diverse in concert at St. Francis of Assisi Catholic Church
By Susan Isaacs Nisbett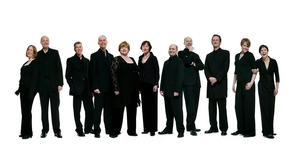 It's a long way from Praetorius and Palestrina to Pärt, but the 10 singers of the Tallis Scholars, appearing Thursday evening at St. Francis of Assisi Catholic Church under University Musical Society auspices, bridged the distance ravishingly.
The program, devised by Peter Phillips, the group's founder and director, was immensely varied. After all, centuries separate Pärt, the Estonian composer born in 1935, from the Renaissance composers on Thursday's program, a diverse lot that included Byrd, Tallis and Allegri in addition to Praetorius and Palestrina. But in their "Miserere," "Magnificat" and "Nunc Dimittis" settings, these composers are spiritual allies whose paths diverge only to take us to the same exalted place.
Getting to that place is more than half the fun, especially with singers like those of the Tallis Scholars, whose vocal blend, purity of sound and exquisite tuning are surely unique — and magical in effect.
The contrasts in the program's pithy first half were stunning. From the opening Palestrina "Magnificat for Double Choir," with its flowing lines and joyous metric shift at the "Gloria," Phillips and the singers took us to a new world with Pärt's "Sieben Magnificat-Antiphonen," short, characterful meditations on German texts (and with Russian male choir undertones) that are filled with stops and starts, dissonances that melt into consonances and phrases that simply hover. The Tallis "Miserere nostri" is music that gathers like a flock coming from the hills — voices layered on voices, glorious in its density (and transparency) and over in a flash. And the Allegri "Miserere," is yet again something else, an extended work in which the high soprano embellishments soar in like shooting stars (Janet Coxwell did the heart-stopping honors) and choirs divide to conquer, enveloping the audience in sound from the front and back of the church.
The second half was equally varied, opening with Praetorius's "Magnificat II," playful and joyous (what fun the singers had with the setting of the word "dispersit," enjoying the composer's "scattering" effect) and continuing with two richly instrumental, beautifully shaped Byrd "Miserere" settings before concluding with Part's "Nunc Dimittis" and "Magnificat." The singing, like the writing, was luminous in effect — dissonance and drones were as exquisite as consonance — and the program came full circle with an encore, radiantly sung, of Palestrina's setting of the "Nunc Dimittis."
Susan Isaacs Nisbett is a free-lance writer who covers classical music and dance for AnnArbor.com.