Posted on
Sun, Aug 25, 2013 : 5:40 a.m.
The Ark follows Jack White's lead and takes a chance on the Thornbills
By Martin Bandyke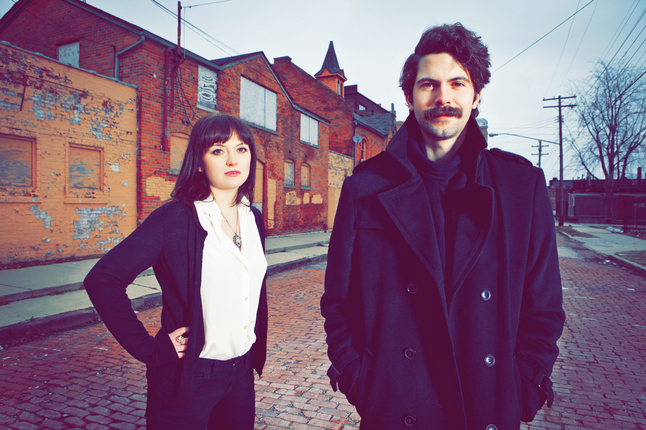 The Ark's
Take a Chance Tuesday
series continues this week with
the Thornbills
, an intriguing indie-folk duo from southeast Michigan who got a big boost at the very start of their career from Detroit native
Jack White
.
The former White Stripes front-man produced the pair's debut recording, a 7-inch vinyl single, for his Nashville-based Third Man Records label, quite a coup for Thornbills members Tamara Finlay and Jim Wiegand.
Known for their hauntingly beautiful vocals and rootsy sound, the Thornbills hope to release their debut full-length album before the end of the year.
Finlay and Wiegand, who happen to be cousins, talked to me recently about their early experiences with Jack White, along with the current state of the Thornbills. Their full-band performance at 8 p.m. Tuesday at the Ark is absolutely free, although nonperishable items will be accepted for Food Gatherers.
Q: So how did you meet Jack White and record a single for Third Man?
Tamara Finlay: Well, we had only officially been a band for a handful of months and had only played open-mike shows for the most part. Then we played one real gig at the Lager House in Detroit back in 2010 and just a few days later got an email from (Third Man Records employee) Ben Blackwell asking if Jack could contact us.
Actually, we thought we were being put on, because we really hadn't done very much. We had a few demos up on Myspace and had played this one proper gig. Then we got the call from Jack and sent him some rough demos and he dug it. We chatted with him on the phone but we still weren't actually sure we were talking to him for real. I think we really accepted the fact that we were dealing with Jack when we got to Nashville and were sitting in our car outside the gates waiting to be let onto his property. Then we realized it wasn't some psycho playing a really cruel joke!
The recording process went really smoothly; it was a really awesome experience. For us, coming out of nowhere, it was a bit crazy. Because of it, we were kind of plunged headlong into a lot of stuff we handled well but weren't completely prepared for. We prefer to take our time and sort of tweak everything so that it's perfect in our minds before we do anything.
At first, we wanted to jump right in and add whomever to the band and play whatever show and record whatever. But as time went by, we got more selective.
Q: What was it like recording with Jack?
T.F.: He has a studio on his property and has a great crew of people, studio musicians and engineers who are a dream to work with. He has fantastic ideas that he comes up with in a snap. He just decided to take a shot in the dark and let us come on over when we were brand new.
Once we met and started talking, he realized how green we were. But he was pleased at how efficiently it all came together.
Q: How did you change in the wake of this experience?
T.F.: At first we were trying to bite off more than we could chew. We thought we had to outdo ourselves, when really it's best to leave things fairly organic, write music and not force it. But I think that after the initial culture shock, we mellowed out and realized we'll just be ourselves and do what we do.
It's not our concern to stand on top of the world. We just want to make something we're proud of and play it for people who want to hear it. It's as simple as that. We don't have any delusions of grandeur or anything.
Q: After the Third Man single, you released an EP independently late last year. What are you currently working on?
Jim Wiegand: We're working on a full-length album right now at Tempermill Studios (in Ferndale) with (studio honcho, musician and producer) Dave Feeny. I feel like we're about halfway done and there will probably be around 13 songs on it.
Q: How would you describe the sound of the album? Is it similar to the single?
T.F.: I think that the single was very much in the style of Jack. It was us with a twist of Jack. I think what we do is a little bit more ethereal, and because we can spend more time on it, it's a bit more lived in - but not over-produced or anything. There's still that simplicity, and it doesn't sound manic at all. It's all very low-key.
There were a lot of life experiences that have contributed to the writing of these songs. We had to take a hiatus due to family stuff.
J.W.: Yeah, we're constantly evolving in the whole writing process. We're tweaking how we write songs and we find the less we try to force it, and let it happen, the better it is; we're really excited about the album.
My dad had passed away the day before we met with (Dave) Feeny to talk about this record. I feel I had been waiting my whole life to do a full-length album and I thought it was not the time to stop. It was tough. I just kept moving forward and used that.
Q: What made each of you want to become musicians?
J.W.: I was a huge Michael Jackson fan in the late '80s. My parents listened to a whole lot of Elton John, Billy Joel and the Beatles, and then in middle school I discovered Nirvana and started to pick up a guitar around the same time. Everybody around me said, "You can't do that," and that made me want to do it even more.
T.F.: Music's always been a huge part of our family. On my dad's side - Jim's mom's side - everyone is a musician. My dad is an opera singer and a voice teacher, so music was a given. I don't think it ever struck me as something to pursue as a living.
My parents only listened to classical music and then I learned about singer-songwriters of the '60s and '70s from my friends' parents. I almost exclusively listen to that stuff. People say to me, "You really like daddy bands, Tammy [laughs]."
I always wanted to find someone to sing with because I really love harmony. That's something neither one of my parents knew how to do instinctively because they were soloists. My dad would challenge me to take the backing vocals on a song whenever we were listening to the radio, simply because he couldn't do it. I caught on really quickly and it became something that I was rather obsessed with.
Jim started to study voice with my dad and my dad suggested I sing with him, thinking our voices would complement each other. I sang some backing vocals on a solo project of his and we liked it so much that he just dropped everything and we started something new.
Martin Bandyke is the morning drive host on Ann Arbor's 107one, WQKL-FM. The Thornbills will perform live on Bandyke's program at 9 a.m. Tuesday, August 27, the same day as their evening performance at The Ark. Follow Bandyke on Twitter, Facebook and at www.martinbandyke.com.