Posted on
Tue, Jul 17, 2012 : 11:14 a.m.
Color Run bringing explosions of color - and thousands of participants - to Ypsilanti
By Jenn McKee
photo by Nya McGinnis | courtesy of the Color Run
Thousands of people will be walking around Ypsilanti this Sunday looking like human rainbows.
Why? Because the Color Run—a 5k fun run in which volunteers, sponsors and staff shower participants with brightly colored dust at each kilometer mark—is coming to town.
Though the first-ever Color Run happened in Tempe, Arizona in January, the event has already garnered a cult following, earning a quarter of a million "likes" on Facebook in a short time, and expanding this year's originally planned 18-city tour to a 44-city tour.
"As the events caught fire, and more and more people found out about it, we got requests from other cities," said Jackson Cozzens, who handles the Color Run's public relations.
Given the event's meteoric rise in popularity, it should come as no surprise that registration for the Ypsilanti Color Run has been closed for some time now—despite the fact that 2,000 runners will be released every 10 minutes, starting at 8 a.m., with the final "wave" leaving at 9:20 a.m.
That's 16,000 runners, for those who are counting.
Why does Cozzens think the race has caught on in such a huge way, and so quickly?
PREVIEW
The Color Run
What: A 5k run in which participants in plain white T-shirts, when they hit each kilometer Color Run zone, are blitzed by volunteers, sponsors and staff with color dust (1k is yellow, 2k is blue, 3k is green, 4k is pink, and 5k is a "color extravaganza"). Several local charitable organizations will benefit from the event, which is sold out.
Where: Race Village is at Riverside Park, with the starting line on Cross Street in Depot Town. A map of the course is on the Color Run website.
When: Sunday, July 22. The first wave of 2,000 runners will start at 8 a.m., with additional waves taking off every 10 minutes until the last wave starts at 9:20 a.m.
How much: Registration for Ypsi's Color Run is closed, but you can join the VIP List to be notified if/when additional spots are opened up, or you can volunteer. For more information, see the Color Run website.
"One of our little taglines is that it's the happiest little 5k on the planet, and it really is," said Cozzens. "It's healthy, you've got endorphins going from the run, there's music, it's colorful, and it's beautiful. It's so aesthetically pleasing. … By the end, everyone has huge smiles on their faces."
Each run benefits local nonprofits. The Ypsilanti run will aid The Michigan Elvisfest, The Ypsilanti Area Jaycees, Ypsilanti Meals on Wheels and SOS Community Services.
Color Run founder Travis Snyder, who has 10 years experience planning races and triathlons, was inspired by festivals in India that shower people with colored dust. (According to its FAQ page, the Color Run's dust is "basically food grade cornstarch and are 100% natural and safe.") In addition, he wanted to create a fun, noncompetitive event (the Color Run is untimed) in which all kinds of people could participate.
"My parents came out to the run in San Francisco, to see what it was all about," said Cozzens. "At their hotel, … they saw this whole family—a mom, a dad and their kids—getting ready to run the race."
So everyone from walkers and kids to experienced runners will be sporting a white shirt at the starting line on Sunday, ready to be doused in one color at each kilometer mark, and then a fury of colors at the finish.
The Color Run's website offers visitors the chance to sign up as a VIP, and be notified if any spots open up; but otherwise, you can either show up to watch the race on Sunday, or wait until next year.
"We're not planning on taking away any locations," said Cozzens. "We're going to keep going, and keep adding on."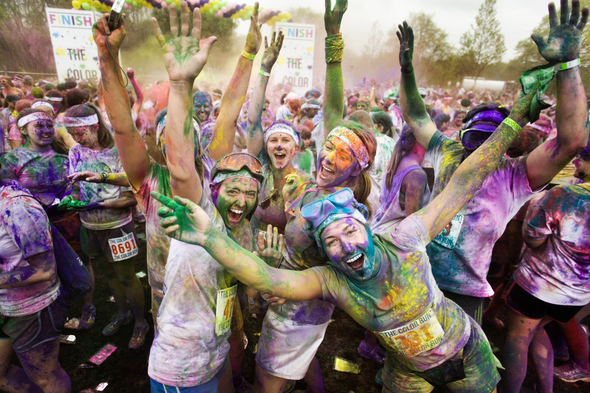 photo by Brian Hall | courtesy of the Color Run
Jenn McKee is the entertainment digital journalist for AnnArbor.com. Reach her at jennmckee@annarbor.com or 734-623-2546, and follow her on Twitter @jennmckee.