Posted on
Mon, Jun 21, 2010 : 10:28 a.m.
The last night of the Elbow Room (and my memories of the Ypsilanti bar)
By Richard Retyi
Editor's note: This story was corrected to reflect the fact that Andy Garris managed the Elbow Room but did not own the bar.
The best bar in Ypsilanti and my favorite bar in the entire world closed last night. Â 
The Elbow Room welcomed me into its gritty, grimy, sometimes sticky embrace for three years and grew to be much more than just a place to get a drink. The end was sudden - operator Andy Garris told me Thursday that the bar's final hurrah under his management would be two nights later. 
I didn't have much time to mourn. The finality of it has yet to sink in. Heck, I just became Four Square mayor of the place, for crying out loud. And now it's over.
After years of running bars in Ann Arbor, Garris started managing the Elbow Room in January of 2007. The Elbow Room had a rough reputation when he moved in, and Garris worked hard to make the Elbow Room what it was last night: gritty, grimy, sometimes sticky and a home away from home. He fostered a feeling of fun and family, he stressed great service, made constant improvements and helped promote local music with shows during the week and every weekend. The Elbow Room became the haunt for a lot of people from the area, myself included.
I made a lot of friends at the Elbow Room, including Garris. I'll admit to bowling with Garris, playing softball with him and eating a few meals with him, including the only $100 steak of my entire life. I met a few girlfriends there too. I once saw a man get bounced from the Elbow Room and then, on the sidewalk, rip out his own tooth and throw it into the street. The Elbow Room had poor lighting, smelled kind of bad, had disgusting bathrooms and a pool table you had to kick really hard to get all the balls to tumble out of. It also had great bartenders, a part-time magician as a doorman and walls covered in concert posters and local art. The clientele spans every race, creed, background and occupation.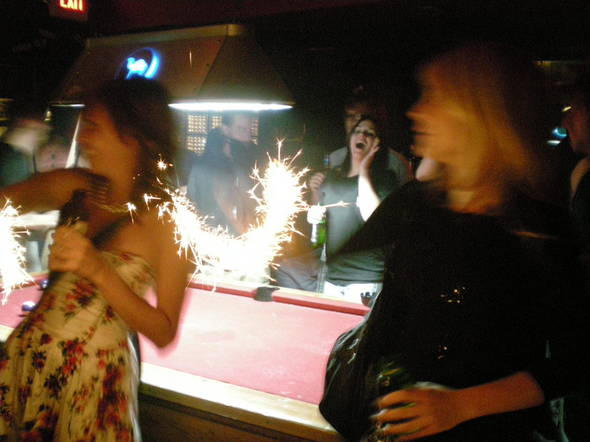 Last week during game seven of the NBA Finals, I sat at the bar and an older woman slid in next to me. She just moved to town and was working as a librarian. She didn't have her cable hooked up, so she wandered down the street to watch the game at the Elbow Room, coming in on karaoke night. The sound on the TV was muted and, as the crowd grew and karaoke began, she leaned in more and more and remarked, "I've never heard that song before." Even Elbow Room karaoke is special and different. But she enjoyed herself. She watched the game, chatted with me and a few others, alternated between ordering Diet Pepsi and regular Pepsi (she didn't drink alcohol) and told me stories about her family, her daughters and Karl Malone. At some point she leaned in and said, "I like this place."
Read Rich's Blog: Don't Take Christopher Walken Boating
I liked it too. Running into people from all walks of life was a regular occurrence at the Elbow Room. The woman at the bar was shocked to hear that she was not the first, nor even the second, third or fourth librarian I've known to spend time at the Elbow Room. The clientele is a grab bag - baristas from the Ugly Mug, bartenders from local establishments, day laborers, business people, students, schoolteachers, rockers, mods, bums.
Colorful characters like Patches and Soul Train give the Elbow Room more personality. It's common for former patrons to visit the Elbow Room whenever they're in town, and its commonplace for Garris to greet them with a hug and their regular libation. There's the occasional dust-up or dead night where you can sit and really get to know someone. Sometimes you'll see a band you've never heard of play so hard you buy their CD, even though the only CD player you own is in your car.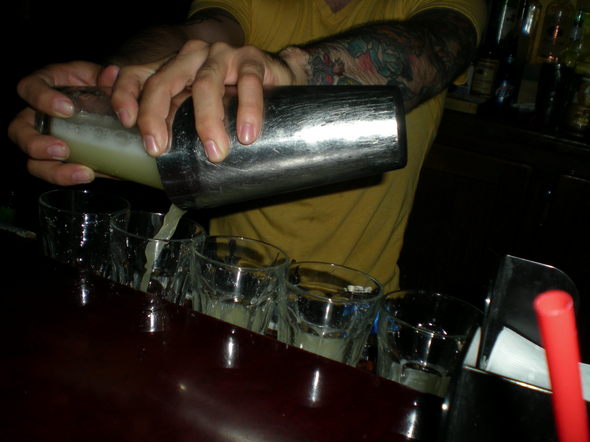 The Elbow Room was a lot of things to me. I was a regular on Thursdays for karaoke (even during the dark days), but also popped in for shows or just a random midweek drink and some conversation. I wrote columns and short stories sitting at the bar. Sometimes I just read a book or talked to people. It was a comfortable atmosphere full of familiar faces. It was more than just a watering hole.
Garris was a special operator who prided himself on having your first drink ready before you got to the bar. He gave back to the community, ceding his space and a lot of his profits to local organizations or fundraisers. He donated thousands to 826michigan this January as part of Mittenfest IV and has helped raise money for a number of organizations. Garris has planned to build his very own bar in Depot Town for years and this summer those plans might actually come true. Until then, Garris will move a half-block down the street to run the bar at Savoy (formerly Club Divine). It'll be an impossible task to replicate the Elbow Room, but he'll take his best shot at making Savoy another special place to visit in Ypsi. I'll be there on opening night; and probably a few more nights after that.
The Elbow Room is survived by Andy Garris, Dustin McDonald, Nina Cislaghi, Birdman, Tony Scarboni, Justin Tury, Tassie Zahner and Amazing Mark. Gone but not forgotten. In lieu of gifts, please give generous tips to the staff at Savoy.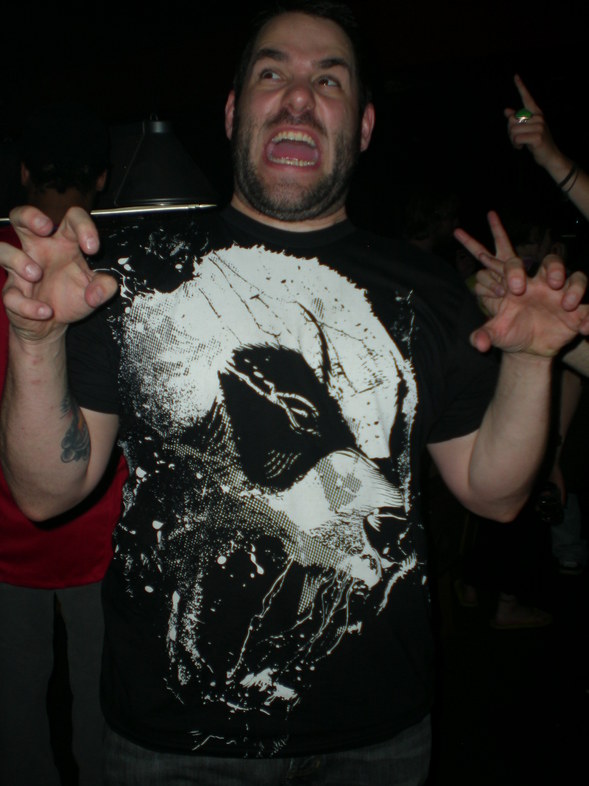 The author on the last night of the Elbow Room
Special thanks to Courtney Mandarino for helping with this piece.

(Richard Retyi writes the bi-weekly column, Lie to Your Cats About Santa, which may have to take a short hiatus to mourn the loss of the Elbow Room. He'll get over it. Please email any story ideas or feedback to richretyi@gmail.com or leave word with Andy Garris at the Savoy. You can read more of Rich's work here. Hope you're having a great summer!)