Posted on
Wed, Jun 29, 2011 : 1:07 p.m.
The Ann Arbor Art Fair aiming to be more 'fairgoer friendly'
By Jennifer Eberbach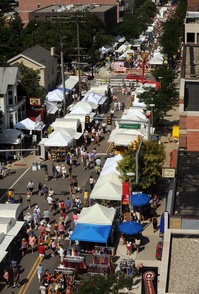 AnnArbor.com file photo
The four summer art fairs that constitute
The Ann Arbor Art Fair
are collaborating to make the downtown-wide event more "fairgoer friendly," directors said during a press preview this week. Improved transportation options, new social-media websites, and the fair's iPhone app will help people to better navigate and get the latest information on what is happening.
Visitors started traveling around the fair's massive footprint in the new A2 Art Trolley last year. The trolley travels around the edge of the fair's periphery and all-day tickets are only a buck.
In addition to AATA "Art Fair Park and Ride Shuttles" at Briarwood Mall and Pioneer High School, where people park and travel to and from the fair, a new "Trinity Westside Art Fair Park and Ride Shuttle" added at Maple Village (155 N. Maple Road at the intersection of Jackson Road) will make it easier for people living on that side of town to park and ride to the fair.
There is a new Facebook page and Twitter page for The Ann Arbor Art Fair that will keep people posted on the latest happenings with "real time" updates—from traffic, parking, and weather to the latest on what artists are doing and news about entertainment offerings. Art Fair staff promise to keep the sites fresh and upload new things everyday. Visitors are encouraged to ask questions on the sites, which will be answered in a timely manner, and share their favorite Art Fair stories and finds with others.
Fairgoers can also download an updated Art Fair iPhone app, which was first introduced last year. Included in the application, this year's 1,100 exhibiting artists will be listed with a thumbnail of their work and information about where to find them.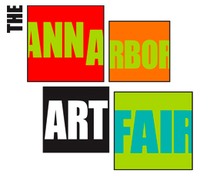 Improvements to transportation and new social media are happening alongside the fair's new "cohesive branding" strategy. In the past, the four concurrent art fairs—Ann Arbor Street Art Fair, Ann Arbor State Street Art Fair, Ann Arbor Summer Art Fair, and the Ann Arbor South University Art Fair—have used their own logos and done their own marketing. Now, increased collaboration and a new "The Ann Arbor Art Fair" logo that represents all four fairs is bringing everything under one umbrella. The best place to start finding out about all four fairs is on the
Ann Arbor Convention and Visitors Bureau's Art Fair website
.
"We recognize that most visitors have always thought of us as one event—and it was logical from a marketing standpoint to join together—to increase awareness of all the wonderful artists and activities at the fair," according to Maggie Ladd, the director of the South University Art Fair.
The 52nd annual Ann Arbor Art Fair happens July 20 through July 23, 2011 all over downtown. Watch AnnArbor.com for full coverage before and during the event.