Posted on
Tue, May 8, 2012 : 5:59 a.m.
'This American Life - Live' broadcast will feature Sedaris, Rakoff and more
By AnnArbor.com Staff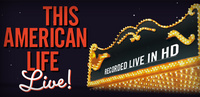 Ira Glass
, host of the popular public-radio show "This American Life," returns to movie screens nationwide with "This American Life—Live!", a special live performance on Thursday, May 10 at 8 p.m. Locals will be able to see the show at Quality 16, at 3686 Jackson Road, or at Rave Motion Pictures, at 4100 Carpenter Road.
Broadcast live from the Skirball Center at New York University, Glass will present stories by writer David Sedaris, David Rakoff, comedian Tig Notaro and Snap Judgment host Glynn Washington. Together they will perform a live stage version of the radio show, centered on the theme "The Invisible Made Visible." The performance will also feature a new short film by Mike Birbiglia, live music by the rock band OK Go, a dance performance by Monica Bill Barnes & Company, original animation and illustration, and special surprise guests.
Tickets for "This American Life - Live!" are available at presenting theater box offices and online at www.FathomEvents.com. For a complete list of presenting theater locations and prices, please visit www.FathomEvents.com or www.ThisAmericanLife.org (theaters and participants may be subject to change). Tickets for Rave cost $18, plus a $1 fee, while Quality 16 tickets cost $19, with a $1 additional fee.
"I saw this amazing dance performance by Monica Bill Barnes' company, and I thought - that is totally in the style of our radio show," said host Ira Glass in a press release. "But obviously you can't have dance on the radio. Then I realized, we have to do another cinema event! We've built this lineup of stories mixed with super visual things, including the dancers I saw that night, so it's going to feel like the radio show but also totally unlike anything we've done before. I really can't wait to see how it turns out."
Presented by NCM Fathom Events, WBEZ-Chicago and BY Experience in collaboration with Public Radio International (PRI), "This American Life - Live!" will be broadcast to more than 550 select movie theaters across the country through NCM's exclusive Digital Broadcast Network. NCM Fathom Events and BY Experience also teamed up for the highly successful cinema presentations of "This American Life - Live!" in May 2008 and April 2009.
"'This American Life - Live!' will be an in-theater celebration of visuals and performance, encompassing storytelling, dance, music, and more," said Shelly Maxwell, executive vice president of NCM Fathom Events, in a press release. "This live event will take the traditional style and sensibility of the popular radio program, and bring it to life on the big screen in a whole new way." "This American Life" is a weekly hour-long radio program which debuted in 1995 on WBEZ-Chicago. Now distributed by Public Radio International, it is broadcast to more than 500 radio stations reaching 1.7 million weekly listeners. Often the most popular podcast in the country averaging more than 750,000 weekly downloads, the show has won major broadcasting awards including the Peabody, duPont-Columbia and Edward R. Murrow Awards. In 2001, Time Magazine named Glass the "best radio host in America." From 2007-2008, a television version of "This American Life" aired on Showtime, winning three Emmy Awards.