Posted on
Tue, May 8, 2012 : 5:58 a.m.
This year's 'Breakin' Curfew' teen variety show could be a sign of the Octopolypse
By Roger LeLievre
(This story has been revised to correct the day of the event.)
You can thank the Mayans and their prediction that the world will end in December for the theme of this year's "Breakin' Curfew" teen variety show.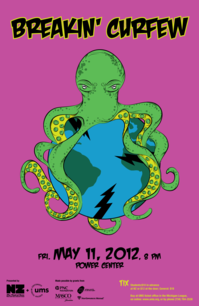 "Last year's theme was Michigan pride. This year it morphed into something we really didn't expect," said
Amanda Heckenkamp
, a Pioneer High School senior and one of the show's teen curators. "We decided on an apocalypse theme because it's 2012—the end of the world. Then we thought it would be cool to have an octopus (on the poster) —kind of an Octopolypse if you will."
That the show's poster, by Belle Toddoroff from Community High, depicts an octopus' tentacles embracing the world—fitting due to the many performing styles that "Breakin' Curfew" typically embraces.
This year's show, the ninth annual, will unfold Friday evening in Power Center with around 20 acts. Genres run from rock and rap to bhangra dance and poetry. The show, which targets an audience of all ages, is a joint production of the Neutral Zone teen center and UMS, the University of Michigan's nonprofit concert presenter—which contributes some of the technical know-how, arranges the venue and helps sell tickets.
All of the performers in Breakin' Curfew are teens, and none are repeats from previous years.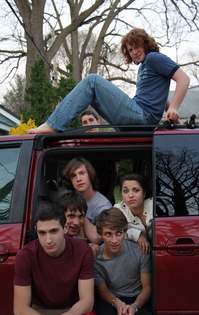 "We have a pretty big range this year. We have some genres we've never done before," said Heckenkamp. "We have a metal band called
Peace Be Still
; we have a klezmer group. We have
Bad Television
, which is like an emo kind of rock group (and) the
Ins & Outs
, which is like a local cover band—they started out as an Eagles cover band and now they are doing different stuff.
"We really tried to get the full spectrum this year as far as bands go. Also we have different styles of dance we have poetry, classical music, hip-hop … I think there's going to be something for everybody, hopefully something that pushes people beyond what they would usually pay to see," she said.
Alia Persico-Shammas, a Community High School senior and another of the curators, elaborated.
"One of the most important parts of 'Breakin' Curfew' is introducing people to something they've never seen before," she added. "We've definitely stayed true to our diversity in the arts. … The experience we're trying to give kids is something that will engage them in a new an exciting way, and hopefully that will inspire them to go out and continue learning about that art or beginning to pursue it."
PREVIEW
Breakin' Curfew
Who: Huge cast of regional teen talent.
What: Annual talent showcase, presented by the Neutral Zone, with help from the University Musical Society, encompassing music, dance and poetry.
Where: Power Center, 121 Fletcher St.
When: 8 p.m. Friday, May 11.
How much: $18 (students, $12). Tickets are on sale at the UMS Michigan League Ticket office, 911 N. University Ave., and by phone at 734-764-2538. Tickets are also available at the Neutral Zone, 310 E. Washington St.
This year's "Breakin' Curfew" performers are MVP Bhangra Dancers (from Plymouth-Canton); Bad Television ("post-emo math roll revival" band from Saline); PHS String Octet (group of eight string musicians from Pioneer High School); Chris Terrell (singer/songwriter from Ypsilanti); Mariology (percussion ensemble from Huron High School); Dustin Schonhard (ballet dancer from Jackson); The Ins & Outs (rock band from Ann Arbor); Kerry Fingerle (multi-talented, singer/songwriter from Ann Arbor); Kids Klez (a klezmer ensemble from West Bloomfield); Sike Yo Mind (rap, hip-hop duo from Holland, Mich.); Skyline Blues (16 member a cappella group from Skyline High School); Fiddlers Restrung (fiddling sensations from Saline); Lottie & The Manatee (pop/folk group from Chelsea); Nick Masters Quintet (members of the Detroit Civic Jazz Program); K.O.K. & Delegate (hip-hop sensations K.O.K and rapper Delegate with hip-hop dancer Quinton Howard); Peace Be Still (rock/metal band from Milan); Carmen Flesher (solo violinist from Skyline High School and Ypsilanti Symphony); Hank Miller & the Pioneer High School Big Band (rat-pack classics); DJ Ell (DJ Elliott Sabbagh, Skyline student) and the VOLUME Youth Poets.
The show—which generally sells out—will have more of a visual component this year. Decorations will reflect an end-of-the-world theme, as will video projections and some "War of the Worlds"-style audio clips that will play between acts, highlighting the Octopolypse theme.
"It get's more exciting as it comes down to (the performance) … The more real the show becomes, the more you talk to the acts and stuff like that the more you realize that you really put this together and it's your thing," said Connor Laporte, an 11th-grader at Pioneer High School, who has been busy producing the visual and audio effects.
Besides presenting an evening of great, multi-faceted teen entertainment, Persico-Shammas said there are many other valuable lessons producing the show imparts, including building teamwork skills.
"Learning to successfully collaborate with people I think is something not everybody gets to learn at this age, so it's nice to be exposed to that and be exposed to the tribulations of working with a large group," she said.
"There is definitely a level of professionalism we have to learn."