Posted on
Wed, Jun 20, 2012 : 5:55 a.m.
Tonight at Top of the Park: Wine tastings return, October Babies, 'The Help,' and more
By AnnArbor.com Staff
Tonight is Day 5 of Top of the Park, the popular, free (donations welcome) outdoor happening featuring music, movies, kicking back, running into friends, and a variety of other attractions.
Each day in cooperation with the Ann Arbor Summer Festival—which presents Top of the Park as well as main-stage ticketed events—AnnArbor.com is publishing a rundown of the night's happenings. Here's an overview of tonight's schedule, with WEMU's (and AnnArbor.com's) Jessica Webster hosting on the Rackham Stage, followed by a more detailed look at the events and attractions:
OVERVIEW

6:30-8 p.m. - KidZone
6:30-8 p.m. - Wind Down Wednesday - wine tasting
6:30 - Barons of Tang - bluegrass / punk
8 p.m. - October Babies - pop / techno / world
10 p.m. - Movie: "The Help"

ENTERTAINMENT DETAILS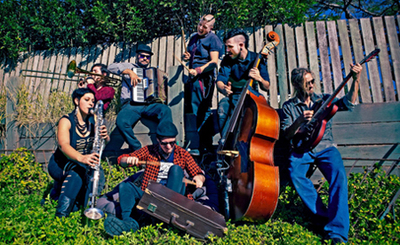 The Barons of Tang - 6:30 p.m.
Australia's The Barons of Tang perform all original music that incorporates Gypsy, tango, folk, jazz, rock, circus, punk and cabaret.
Performing since: 2007
Home base: Melbourne, Australia.
Style of music: Tango / Gypsy / Punk / Klezmer / Folk / thrash
Members: there's 7 of us
Band name backstory: We met in 2007, performing for a touring theater company. We were living in this warehouse space and running a bar. We dumpstered all this Tang and put it on the bar and no one would drink it, but come midnight each night the local drunks would start snorting lines of in some weird display of masculinity, and we became the Barons of Tang.
Day jobs: This is our day job and our night job.
Favorite road food: Disappointment. Can't get enough of the stuff. That and burritos.
Favorite stage outfit: Stupid hats / dirty pants
Musical hero: Django Reinhardt / Taraf de Haidouks / Zorn / Patton
Website:
www.thebaronsoftang.com/
Myspace:
www.myspace.com/thebaronsoftang/music
Facebook:
www.facebook.com/pages/The-Barons-of-Tang/27135980829
October Babies - 8 p.m.
Ypsilanti's October Babies have a bright and energetic spirit that excites their American audiences, even though their lyrics are mainly in Japanese. Their songs are a hybrid of many genres (funk, jazz, R&B, reggae/ska/dub, techno, Latin, drum & bass, rock, surf-punk, hip-hop, down-tempo, orchestra pop, and blues, to name a few), and the band has won several Japanese Internet competitions.
Movie: "The Help" - 10 p.m.
Running time: 146 minutes. Rating: PG-13. 2011.
Set in Mississippi during the 1960s. Skeeter (Emma Stone) is a southern society girl who returns from college determined to become a writer, but turns her friends' lives - and a Mississippi town - upside down when she decides to interview the black women who have spent their lives taking care of prominent southern families. Based on the best-selling novel; Academy Award nominated for best picture 2011 and winner of the Academy Award for best supporting actress.
OTHER ATTRACTIONS
Wind Down Wednesday - 6:30-8 p.m.
The popular Wednesday wine tastings return to Top of the Park. For a $15 tasting fee, attendees can sample up to three different wines from the evening's featured selection. Tastings include wine, descriptive tasting notes, and wine experts. In addition, drink specials on each of that evening's presented wines in The Grove until 9 p./m. for all participants. 21+. No reservations needed; just show up. Limited capacity, so early arrival is suggested.
KidZone - 6:30-8 p.m.
As described by the festival, "An interactive area for our youngest concert-goers, the Kidzone tent provides a fun and safe area for children and their parents to discover and explore a wide variety of hands-on activities with different community partners. From getting temporary tattoos, creating homemade instruments, or jamming out rock band style, KidZone offers different nightly activities for families at Top of the Park."
Top of the Park takes place in front of the Rackham Building on East Washington Street. In addition to the daily entertainment, a variety of local food vendors will also be on hand each night. For more information, see the
Summer Festival website
, and watch AnnArbor.com for
complete coverage of festival events
.
View
Summer Festival Top of The Park 2012
in a larger map