Posted on
Fri, Nov 2, 2012 : 8:47 a.m.
U-M Opera Theatre to stage a Mozart masterpiece
By Laurel Firant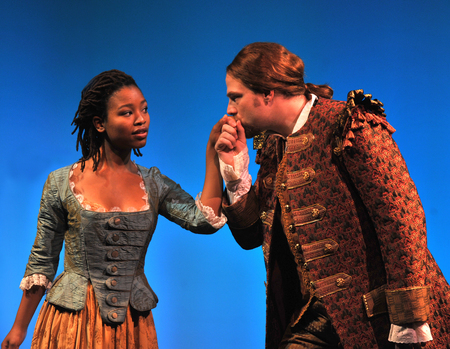 photo by Peter Smith Photography
One of the greatest operas ever written—Wolfgang Amadeus Mozart's "Don Giovannii"—will be presented by the University Opera Theatre Nov. 8-11 at the Power Center for the Performing Arts in Ann Arbor.
Based on the story of an unrepentant libertine, the work in two acts premiered in Prague in 1787. Mozart's music is remarkably fresh to this day, and the opera is a favorite among audiences worldwide. Jonathan Lasch, who put in an impressive performance last season in the title role of Giuseppe Verdi's "Falstaff," again takes the lead opening night. (The production is double-cast.)
Sung in Italian with projected English translations, the University of Michigan production is set in New Orleans during the 1780s. This provides "a steamy, supernatural atmosphere ... a perfect playground for Giovanni," said director Robert Swedberg. The Opera Theatre has consistently breathed new life into many a classic over the years.
But the elegance and clarity of Mozart's composition can be a challenge, as U-M music professor Martin Katz is quoted in the theatre's press release: "With Mozart there is simply no place to hide vocally. Any detail not attended to, any imperfection will be heard loudly and clearly. The 'manners' with which we must perform this genre of music are rigorous and very demanding."
"It's a good piece for the singers we have on hand," said Swedberg in a recent phone interview with me. "Our students are among the best in the country, and it's fun to work with them on a piece like this ... to share some of the treasures in the score." Swedberg said he actually prefers working with the young singers over more seasoned professionals, saying "their approach to characters is very fresh, very wonderful."
PREVIEW
"Don Giovanni"
Who: University of Michigan Opera Theatre.
What: Much-loved Mozart opera.
Where: Power Center, 121 Fletcher St. The Power Center is wheelchair accessible and equipped with an infrared listening system for hearing enhancement.
When: Nov. 8 at 7:30 p.m.; Nov. 9 and 10 at 8 p.m.; and Nov. 11 at 2 p.m. There will be a post-performance discussion featuring members of the cast on Nov. 9.
How much: $26 and $20. $10 tickets are available for students. They can be purchased in person at the League Ticket Office, located within the Michigan League at 911 N. University Ave. in Ann Arbor. The ticket office is open from 9 a.m.-5 p.m. Monday through Friday, and 10 a.m.-1 p.m. on Saturday. Tickets can also be ordered by phone at (734) 764-2538 or online at tickets.music.umich.edu.
"The piece speaks to people," Swedberg continued, citing that the opera has "some of Mozart's most interesting music" and "such depth and color in characterization." He is writing the translations that will be projected above the stage, and mentioned that "sometimes it is a challenge" to interpret Lorenzo da Ponte's libretto's into contemporary English. "It has to be paraphrased quite a bit but the language still has to have a sense of poetry."
Also, some of the issues surrounding the seductions of women in the story need to be addressed. "The subject matter isn't that funny," Swedberg noted. "Situations were understood in a different light (in the 18th century). You can't back away from what's in the piece, but sensitivity is needed in pulling it into the 21st century." To achieve that, Swedberg said they "are weaving a little more ambiguity into the story."
The production's conductor, Christopher James Lees, reflected on the work in a phone conversation with me recently. "It's a thrilling opera from start to finish," he said. "I think anytime you do a Mozart opera, you are faced with the challenge of greatness. The same genius that presented the challenges in the work is responsible for all the emotional benefits of traveling through it. Every time you open the score to start the journey, you are going to get something different out of it. It has everything - tremendously singable tunes, tremendously captivating story line, and incredibly sympathetic characters."
In asking him why people should see this opera, Lees responded, "This is a masterwork of unparalleled proportion. ... Giovanni is one of these characters that everyone loves to hate. And," he added, "it's an unforgettable ride."