Posted on
Thu, Mar 8, 2012 : 10:16 a.m.
University of Michigan professor Eileen Pollack's acclaimed novel 'Breaking and Entering' explores how divided America co-exists
By Jenn McKee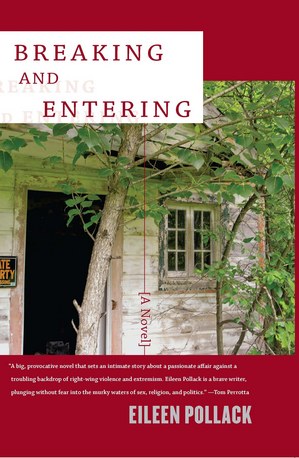 To get at one of the themes explored by University of Michigan professor
Eileen Pollack
's engrossing new novel, "Breaking and Entering," you need only imagine what it would be like if
Rick Santorum
lived next door to
Barney Frank
.
"Strangely enough, they'd probably take out each other's trash," said Pollack.
"Breaking"—which has been getting strong reviews, including one in The New York Times—focuses on a couple, Louise and Richard Shapiro, who relocate from northern California to rural Michigan after one of Richard's patients commits suicide, and Richard accidentally starts a small forest fire.
Seemingly depressed, Richard takes a job in Michigan as a prison psychiatrist and pulls away from Louise and their young daughter, Molly, while feeling more and more drawn to a neighbor's militia group. (This is particularly relevant because shortly after the couple moves to Michigan, the Oklahoma City bombing happens and draws attention to Michigan-based militia groups.)
Louise, for her part, tries to land a job as a school counselor, but the highly conservative school's principal disdains Louise's more liberal views; and after meeting an attractive Unitarian minister, Louise, feeling abandoned by Richard, begins an intense affair.
"I'm very interested in passion in all its forms: political passion, religious passion, and romantic passion, and the way in which passion is, on the one hand, something that is devoutly to be wished—a life without passion would just, I think, be very dull, and you wouldn't know what to do with yourself, because a passion determines what you do with your life," said Pollack. "We think of political passion as a good thing, or religious passion, and surely passion for another person. But passion is also very destructive. It's a longing for what we can't have."
Pollack moved to Ann Arbor in 1994, and a number of things inspired her to begin writing "Breaking" in the mid-90s: the Oklahoma City bombing in 1995 ("I kept seeing Tim McVeigh's face, and I just wanted to know, what was he thinking? How could somebody do this? How could he be afraid of this government that I am not afraid of?"); an attack on a Jewish preschool in California; Pollack's experience of working with schoolchildren in far-flung parts of the state; her upbringing in a rural area in an upstate New York, and her time living in New Hampshire; and the harassment and prejudice that a Jewish man (and his non-Jewish spouse) suffered when he moved from California to rural Michigan.
"He started being harassed, and then their children started being harassed in school, and then their house burned down, which was very traumatic for them, because they thought they were being burned out," said Pollack. "And in fact, at first, the fire marshal said that their were traces of kerosene, and that it was arson. But the town blamed them for burning—they accused them of burning their own house down to collect the insurance, because they fit the profile of people who would do that. … I had this image of the husband turning sideways and going, 'You mean this profile?'"
Like Pollack's friends, the main characters are a Jewish man and a non-Jewish woman—but because Louise has taken Richard's name, the residents of Potawatamie assume she's a Jew as well. And while she is a liberal, she grew up around guns as the child of anarchists.
"(Louise) can see all sides but belongs to none of them," Pollack said. "If you have an insider/outsider, that's a very useful position for a character to carry a novel from. … And when people assume you're something that you're not, or they don't think you're something and you are, you're like a spy, too."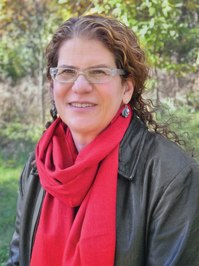 To some extent, Pollack shares an insider/outsider status, since she isn't from Michigan originally, but has now lived here long enough to have compelling insights about the region and its inhabitants.
"Michigan is a state where so many people who are so incredibly different from each other live not only within the same state boundaries, but sometimes within the same city, sometimes within the same neighborhood," Pollack said. "It's just amazing to me. Of course that started to become a microcosm of America as a whole, where, as I wrote the book, people were talking about red states and blue states, … and I really became curious about how a country as a democracy could function so well when the people living inside it are so radically different from each other, and have such radically different worldviews about what's moral or immoral, or who they're afraid of, what they're afraid of. … You think about the gridlock in Congress now. But how does it work at all?"
Pollack aimed to model several of "Breaking"'s characters on people she knew in upstate New York and New Hampshire, thus circumventing stereotypes; and both conservatives and liberals in the novel have their flaws.
"With the husband, I really wanted to defy the stereotype, because he actually goes overboard hanging out with the militia guys—which has to do with his background as the child of Holocaust survivors," said Pollack. "He grew up hearing stories of his father and uncle living in the woods and being Partisans—that's like a militia. And I think a lot of Jews, in the back of their mind, do think, 'Well, what if your government turns on you the way Nazi Germany turned on German Jews who felt very German?' They were very assimilated, very proud to be German, and their own government rounded them up and sent them to concentration camps. And you have to think, if they'd had guns, and they'd had an organized militia, maybe some of them would have lived. So in a weird way, there's this attraction to that kind of culture, and the son wanting to prove that he could have been the kind of man his father was. And these are complexities you can't get at if you're just dealing in stereotypes and jokes."
While Pollack began the book in the mid-90s, it went through many revisions until it was finished about a decade ago. But then, no one seemed interested in publishing it.
"I put it away, because nobody believed, nobody cared, nobody—on the East Coast, they'd read it and say, 'Are you on drugs? A book about the militia? Are you crazy?'" said Pollack. "And this is even after Oklahoma City. I was stunned. Even during the Bush years, nobody seemed to get that this was America I was writing about. And they just thought I was making it all up or exaggerating or something."
With so much happening in a novel like "Breaking," you might wonder how much Pollack lays out a blueprint before getting started.
"If I don't know what I'm doing at all; I can get too lost," Pollack said. "And my novels tend to be very intricately plotted, so I have to have some idea of what's going on. But if you know everything before you start, it's just going to be deadly for everyone involved. So I like to tell my students that you need a spring - something that knocks over the first domino. And then you can see where the dominoes fall after that.
" … I didn't know how ('Breaking') would end. I didn't know if the marriage would survive, I didn't know if the couple would keep their jobs, I didn't know if the couple would stay. But I knew all that would happen in the final chapters, and that by the time I got there, I'd have a much better idea."
The Author's Forum at the University of Michigan will host a reading from "Breaking and Entering" and a conversation with JoEllen Vinyard, author of a nonfiction book about the history of extremist rightwing groups in Michigan, on Wednesday, April 4, from 5:30-7 p.m., in Room 100 of the Hatcher Graduate Library on the U of M campus.
Jenn McKee is the entertainment digital journalist for AnnArbor.com. Reach her at jennmckee@annarbor.com or 734-623-2546, and follow her on Twitter @jennmckee.