Posted on
Sun, Mar 21, 2010 : 5:02 a.m.
University Opera Theater staging Gluck's rarely seen "Armide"
By Susan Isaacs Nisbett
Talent imitates, but genius steals.
So let's place the composer Christoph Willibald Gluck, he who draws little recognition outside of music circles, with the geniuses.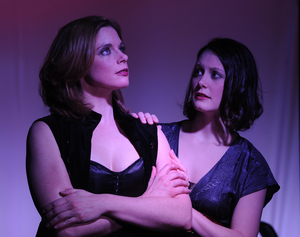 Peter Smith Photography
It's where this 18th century composer, an opera-world reformer whose works sit between Handel's and Mozart's, belongs anyway. But if genius consists, at least in part, of stealing — from the best, when possible — Gluck qualified on the spot with his 1777 opera "Armide," whose libretto he lifted intact from Lully's celebrated earlier opera of the same title. It was the scandal du jour and a provocation: Lully's opera was considered the perfect embodiment of French opera since 1686. But in the libretto, based on an episode from Tasso's "Jerusalem Delivered," Gluck found a base on which to erect a work that, refraining from traditional ornate vocal displays, instead melded music and story into a simple artistic unity.
The score is filled with sensuous, lyrical music of great eloquence, and Gluck considered the opera to be the best of the 40 he wrote. But today he is most often represented by his exquisite "Orfeo ed Euridice," a retelling of Orpheus's descent into the underworld to rescue Eurydice. "Armide," meanwhile, is a rarity on stage.
It gets an outing at Lydia Mendelssohn Theatre Thursday through Sunday, March 25-28, however, thank to the University of Michigan University Opera Theatre and the University Philharmonia. The opera is sung in French with projected English translations and is double cast. The U-M's Joshua Major directs, and guest Douglas Kinney Frost conducts. The Sunday performance is led by Yaniv Dinur.
---
PREVIEW

Who: U-M University Opera Theatre.

What: Gluck's "Armide."

When: March 25-28: Thursday, 7:30 p.m., Friday and Saturday, 8 p.m., Sunday, 2 p.m.

Where: Lydia Mendelssohn Theatre in the Michigan League, 911 North University Avenue.

How Much: $18 and $24, with $9 seating for students with I.D. At the Michigan League.

Ticket Office, 734-764-2538, and online at U-M music department web site.

Related Info: Friday and Saturday performances feature post-performance discussions moderated by Director Joshua Major and featuring members of the cast.
---
"I've wanted to do it for about 3 years now," said Major. "Whenever we choose repertoire at the school, it's a combination of factors. We haven't done French opera for a long time now: either it was not the right piece, or not the right singers. But this is a piece I wanted to do, a neglected part of the repertoire. And that's 1 of our jobs at the school, to do rep like this and to get the singers to understand it. It happens to be a really great opera, and I hope other people will see that."
Certainly lots of other composers have seen the potential of the story: from Handel to Donizetti, Rossini and Dvorak, they have drawn on the tale of the sorceress Armide, a warrior who uses her powers of seduction to defeat the invading Crusaders, Armide is determined to ensnare the only knight, Renaud, who has been able to resist her bewitching eyes. On the verge of taking her revenge, she is overcome with love at first sight. Armide casts a spell over Renaud to make him love her while she grapples with her conflicting emotions. Ruled by obsessive passions, she walks a fine line between love and hate as her attraction for Renaud undermines the warrior within.
"I am completely enthralled with the piece," said Major. "The journey of this woman — from this powerful, secure, controlling presence to this devastated, insecure, love-torn woman who is barely able to survive — is remarkable. The piece is about the miseries of love undermining love and valor."
It's a simple plot, Major pointed out, not convoluted like those of other operas. "The plot is not the point," he said. "There are lots of conversations, conversations about the nature of love."
Major and his collaborators — who include scenic designer Vince Mountain, lighting designer Rob Murphy and costume designer Rachel Jahn — have given the opera a contemporary look.
"It's not a period piece, and we're not doing as a period piece," he said. "We're doing it in a more contemporary way. The psychology is the focus."
Susan Isaacs Nisbett is a free-lance writer who covers classical music and dance for AnnArbor.com.