Posted on
Mon, Jul 18, 2011 : 5:26 a.m.
Hospital exhibit showcases gorgeous 'Visions of Bay View'
By John Carlos Cantu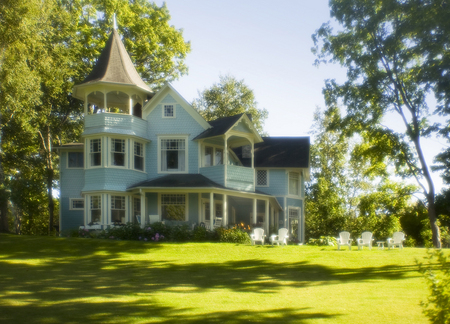 Robert W. Cleveland's "Visions of Bay View" exhibit at the University of Michigan Hospital looks almost too good to be true. Almost.
The Bay View Association of The United Methodist Church is a National Historic Landmark community founded in 1875. It's situated on 337 acres in northwest Michigan just north of Petoskey—a summer Chautauqua that offers music, lectures, and seminars to the public every year.
Home to more than 30 public buildings, 450 cottages, and two commercial inns, Bay View is obviously a very special, even idyllic, community. It has inspired the 11 color photographs that constitute this exhibit (part of the hospital's Gifts of Art program) and also illustrate Mary Jane Doerr's 2010 book "Bay View: An American Idea."
As Doerr writes, the Rev. Wesley Hager, a former president of the Bay View Association, was once asked: What is Bay View?
"Answering his own question" writes Doerr of Hager, "'Bay View is a prayer, a dream, a hope. Bay View is life at its very best, life that is rich and full and abundant and deep and always growing.
"Bay View exists in the hearts of the people who have enjoyed its surroundings, benefited from its culture, partaken of its activities, and profited from its rich religious heritage.'"
Cleveland amplifies on Hager's sentiments when he writes in his gallery statement, "Bay View is a highly sensory experience. It is about decorative Victorian cottage architecture, white wicker porch chairs softened with bright garden patterned cushions, unexpected floral sprays of color strategically displayed, and the familiar cider aromas of long ago wooden cottages. These distinctive scents release remembrances of a quieter, more comfortable, and uncomplicated time."
Cleveland has set about to depict this comfort—and he's done it quite well.
It doesn't hurt that the Victorian-era precision of Bay View's architecture is such a pleasing amalgam of linear geometry filigreed with generous curvilinear details. Add immaculate greenery and there's a remarkable luster depicted in each of Cleveland's photographs.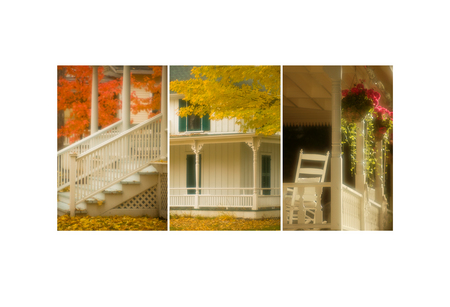 Some of these photos (each artwork is given a number rather than a title) feature sprays of strategic colors set against a white and/or gray architectural base. In one instance, Cleveland will feature a floral arrangement; in another he adds an American flag (which, once you think of it, has a pretty nifty color coordination of its own). Ultimately, these are examples of superior genre arrangement.
Much more impressive are Cleveland's architectural studies. These photos take advantage of his ability to craft compositions with a keen eye to the details that go into building a superior structure without overwhelming the work with superfluous features. And this is particularly difficult when the Victorian-era edifices of his study were purposefully constructed along such embellished lines.
In particular, "Bay View No. 5" finds Cleveland's eye at its most accomplished.
Doerr (whose observations accompany each photo gallery tag) writes of "Bay View No. 5," that "cottages often were named for the people who built them. Michigan (state) Senator (John W.) Moon built the Moon Cottage in 1886 with a tower to view Little Traverse Bay in all its erratic moods. It was considered too fancy at the time, but now the cottage is iconic and frequently featured in newspapers, books and magazines all over the United States."
Right—and for once, the use of "iconic" is totally appropriate. Cleveland's composition captures the comfortable majesty of the Moon Cottage within its setting. And it's not accidental that seemingly every inch of the property has been thought out and crafted with such a unity in mind.
In particular, the tower that Doerr mentions is a spectacular element, effortlessly dominating the photograph's corner with its immaculate peak dramatically sitting atop two stories of pleasing bay windows. Ornate but not really ostentatious, Cleveland's "Bay View No. 5" is an exceedingly powerful example of architecture (and architectural photography) precisely done.
"Visions of Bay View: Photographs by Robert W. Cleveland" will continue through Aug. 15 the University of Michigan Health System Gifts of Art Gallery—University Hospital Main Corridor, Floor 2, 1500 E. Medical Center Dr. Gallery hours are 8 a.m.-8 p.m. daily. For information, call 734-936-ARTS.