Posted on
Wed, Jan 11, 2012 : 5:30 a.m.
University of Michigan Museum of Art hosting powerful exhibit of contemporary photography, 'Face of Our Time'
By John Carlos Cantu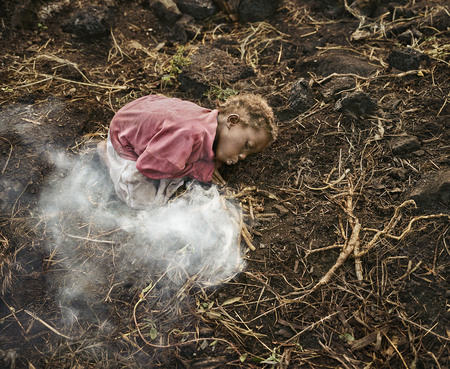 The whimsy of art and the hard nose of journalism meet comfortably in the University of Michigan Museum of Art's epic-scaled "Face of Our Time."
On display in the UMMA's spacious second-story A. Alfred Taubman Gallery, this extraordinary pictorial exhibition consists of 135 photographs taken by five contemporary Magnum photojournalists—Jim Goldberg, Richard Misrach, Zanele Muholi, Daniel Schwartz and Jacob Aue Sobol—who unflinchingly marry their social concerns to the field of art photography.
Magnum, an international photographic cooperative based in New York City, is dedicated to recording both large and small historic events as they occur. Following the spirit of co-founders Robert Capa and Henri Cartier-Bresson, Magnum photographers—each an ace at the profession—risk all to document humankind as they see us. "Face of Our Time" fits the group's bill.
As the display's gallery statement tells us, the exhibit highlights photojournalists who "share an interest in making pictures that capture what the world looks like now. They describe poetic truths and complex, open-ended social realities within the context of current political events.
"The title of the exhibition refers to the book 'Face of Our Time,' published in 1929 by August Sander, a major German photographer of the 1920s." Sandler's "project was to convey his historical moment through the faces and comportments of his contemporaries in order to reveal the character and culture of Germany before the Second World War."
And similarly, concludes the UMMA, "the photographers in this exhibition are aligned by their committed interest in making pictures about our world; each artist (presenting) a personal understanding through his or her private visual responses."
This pointed combination of photographic history and modern practice makes "Face of Our Time" a raw and powerful example of contemporary photojournalism. For as a fusion of aesthetic concern and public interest, the camera's ability to shape reality takes on a heightened significance in the compassionate hands of these talented photographers.
These photographers have essentially jettisoned the notion of recording the world objectively. What's left is the photojournalist's integrity in showing us what they have experienced.
For example, Danish photographer Sobol went in 1999 to live in the settlement of Tiniteqilaaq, on the east coast of Greenland, with his Inuit girlfriend, Sabine, and her family. His subsequent 16 "Sabine" contributions reflect his life as a fisherman and hunter, mingled with the domestic routine of this environmentally challenged community.
The "Sabine" photographs are nothing short of a revelation, as they find Sabine's Greenlandic Inuit society caught between their native customs and the imperatives of modern society. Sobol's oversized black and white photos offer unvarnished observations of Inuit life. All this, while showcasing the captivating Sabine in her many moods.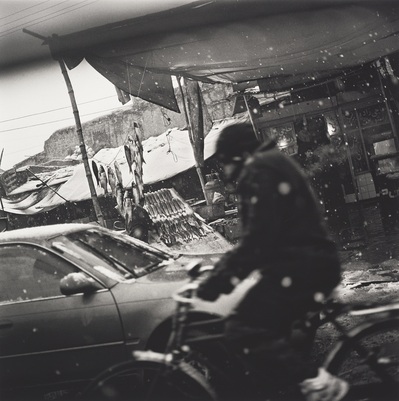 By contrast, Goldberg's and Schwartz's oversized photographs follow their investigations in politically and economically devastated communities in Africa and central Asia. Goldberg's work is specifically pointed, while Schwartz's efforts are more globally panoramic. What they share is an uncompromising intent to record what they witness.
Goldberg's dozen oversized color photographs run the span of central, sub-Sahara Africa—Senegal, Liberia, and the Democratic Republic of Congo—restlessly exploring areas of underprivileged privation. Unflinching in its observation, Goldberg's camera serves as a silent witness to squalor. Yet his work also captures his subjects' unique integrity.
Schwartz takes a more expansive view in his "Traveling through the Eye of History" images of central Asia's ancient Silk Road. Perhaps a touch more artistically inclined than the others in this group, Schwartz's 18 color and black and white oversized works reflect a random touch wedded to vivid composition. His work ranges from a wry colorful "Sandstorm near Lashkargah, Afghanistan," where two hands in front of a rear-view mirror are set against a hazy, windblown windshield, to a magnificent black and white architectural study of the "Sasanid and Seljuk Ruins of Bam, Iran."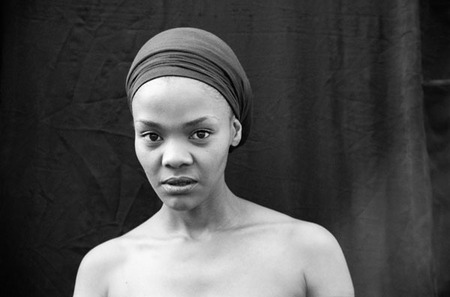 South African photographer Muholi champions her near-invisible community of gay and transgendered women in her 2006-10 "Faces and Phases" photographic series. Working in a country where there is no law against hate crimes with a population that's suffered discrimination on multiple levels, Muholi has crafted a portfolio of 20 black and white portraits that's empathetic while also formally precise. As such, there's a dignity to her work that catches the interior psychology of her subjects.
Finally, Los Angeles-based Richard Misrach has added 69 point-and-shoot color graffiti images written on homes, cars, and shops in the wake of New Orleans' 2005 Hurricane Katrina. Some of the graffiti is wry; some is despairing; much of it is angry. They all illustrate the range of emotions left in the hurricane's aftermath. By taking a modest subject, then giving it a creative platform, Misrach reminds us America's not too far removed from other parts of the world when it comes to pain or misery. But then, as his camera tells us, we're brave in the face of tribulation.
"Face of Our Time: Jacob Aue Sobol, Jim Goldberg, Zanele Muholi, Daniel Schwartz, Richard Misrach" will continue through Feb. 5 at the University of Michigan Museum of Art, 525 S. State St. Museum hours are 10 a.m.-5 p.m. Tuesday-Saturday; and noon-5 p.m. Sunday. For information, call 734-763-UMMA.