Posted on
Thu, Mar 22, 2012 : 9:52 a.m.
University of Michigan grad Miriam Shor having fun as star of ABC's 'GCB'
By Kurt Anthony Krug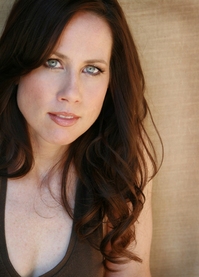 As an actress, part of University of Michigan alum
Miriam Shor
's job is to fall in love with her roles.
"I've gotten really lucky," said Shor, of New York.
Shor currently plays Cricket Caruth-Reilly on "GCB"—based on Kim Gatlin's book "Good Christian Bitches"—airing Sunday nights on ABC. She's part of an ensemble cast that includes Leslie Bibb ("Iron Man"), Annie Potts ("Ghostbusters"), Marisol Nichols ("24"), David James Elliott ("JAG"), and Kristin Chenoweth ("The West Wing").
"It's a great ensemble. One of the joys as we filmed episode to episode, everyone revealed more and more talent. As we got to know each other, we'd sit and watch each other do our scenes and we'd make each other laugh so hard. Everyone on the show is very talented and brings something to the table that's really (his or her) own and really unique. I'm really excited about that. It's fun to work that way; it's fun to be excited to be do a scene with people," said Shor.
The show centers on Amanda Vaughn (Bibb), who, along with her two kids, is forced to live with her mother (Potts) in Dallas upon the death of her husband—who conned investors out of billions and died in a car crash with his mistress. Upon returning to her hometown, Amanda—a very cruel person in high school—encounters her old classmates, including Cricket, whom she disparaged. Refusing to believe she's changed, her former classmates, led by Carlene Cockburn (Chenoweth), want her gone.
"We filmed the pilot episode in Dallas, which is great, because it allowed us to understand these women. They're from a very specific part of Dallas called Highland Park; it's a very wealthy area with its own social order. It's a very fascinating place. I'm glad we went to Dallas to do the research on these people because they're broadly-drawn characters and there is a basis for their behavior in truth. I wanted to witness that for myself… It would be great if they could film it in New York, but I don't think anyone's gonna buy New York City for Dallas," she said, laughing.
It was her fascination with southern women who "seem so larger than life and their emotions are so huge" that attracted her to Cricket.
"Cricket Caruth-Reilly is the kind of person who introduces herself with her full name. Always. She's a very powerful CEO of a multi-million dollar corporation in Dallas," said Shor. "She is a churchgoing woman who's very righteous and happens to be married to a gay man. Nobody knows that; it's her little secret. She's fiercely loyal. Do not cross her or you will regret it.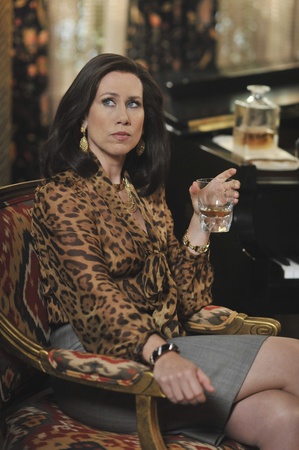 ABC
"I enjoy playing her. I love her and I'm scared of her at the same time," Shor continued: "She's a very different character than I am. She comes from a different world. It's a world I don't know… I wanted to get to know that world and it was well-written. When you're auditioning for TV, an interesting, well-written character doesn't always come across your desk. I thought, 'Wow, this is super challenging. I want to do it. Please let me do it.' And I fooled them and they let me," she added with a laugh.
"GCB" has been touted as the next "Desperate Housewives," ABC's long-running dramedy ending in May. Shor is dubious about that comparison.
"I don't know. I've done a couple of TV shows, none of which really lasted too long—I hope I'm not jinxing them. My feeling is it's the luck of the draw. If we were lucky enough to spend as much time on television as 'Desperate Housewives' did—knock on wood—that would be amazing," she said. "I hope people find us as entertaining and enjoy us as much.
"I think we are a different show on a lot of levels. When you have a show with really strong female characters, people are really quick to compare you to other shows with really strong female characters. They don't tend to do that with shows with strong male characters quite as much. Overall, we'd be very lucky to fill that void. I just hope people enjoy the show and watch it."
A native of Minneapolis, Shor alternated between Detroit and Italy as a toddler. She was exposed to the arts at a very young age.
"(My parents) took me to the opera when I was 2. That was very much a part of my life. I'm sure that had some influence, right? I remember seeing my sister in a production of 'Hello, Dolly' in high school... She was pretty riveting. I remember thinking, 'You can go on stage and do that? I didn't realize we could do that.' So I did theater in high school. I auditioned for all kinds of theater programs, and I didn't get into any of them," she recalled, laughing.
"I said, 'OK, I guess I won't do that.' But I couldn't stop thinking about it. In college, I auditioned again and I got into the theater program at U-M. Then someone gave me a job and paid me money. It was an eye-opening experience… You mean, I can actually eat and do this? It was a series of steps. I just kept getting inspired."
A 1989 Ferndale High School alum, Shor graduated from U-M in 1993 with her undergraduate in theater and English.
"I have two degrees and I use both of them: I'm an actress and I speak English every day," she joked. "At first, I thought, 'I gotta go to school out of state. I'm from Michigan. I don't want to go to school in Michigan; I want to go somewhere else. I want to get out of here.'
"(But) I loved it there. I even spent my summers there —I would just stay. Ann Arbor in the summer is my favorite. It's pretty. A lot of the students go away, but there's still kinda that great vibe. Top of the Park, the Ann Arbor Art Fair… it was just a nice place to hang out."
She added: "I'm super-proud to be a Detroiter. I've always been proud to be one. There's something about the struggle the country's going through right now, I'm proud to say that I'm from Detroit and proud to have gone to school in Michigan. I'm very proud of and love the places I've come from."
"GCB" airs at 10 p.m. Sundays on ABC.