Posted on
Sun, Feb 12, 2012 : 5:28 a.m.
Uplifting harmonies of Sweet Honey in the Rock returning to Hill Auditorium Friday
By Roger LeLievre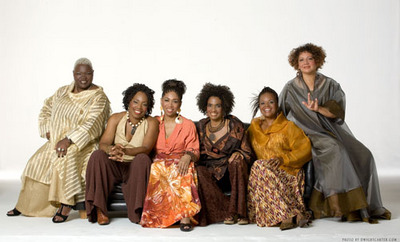 Sweet Honey in the Rock
, the Grammy Award-winning all-female African-American a cappella ensemble, has had a long relationship with Ann Arbor, one they will further with a return visit—their ninth since 1993—Friday night.
As has been the case in past appearances, Sweet Honey comes to town thanks to the efforts of the University Musical Society.
The group's commitment to social justice was showcased in 2003, when its members performed on the steps of the U.S. Supreme Court as the University of Michigan defended its position on affirmative action. In 2004, UMS honored Sweet Honey in the Rock with its Distinguished Artist Award.
"I think what the group seeks to do is to always be informative and to inspire people to think and be of service," said founding member Carol Maillard in a recent phone conversation. "If any song we do in concert helps to support that, we're happy."
Besides Maillard, Sweet Honey In The Rock members are Ysaye Maria Barnwell, Nitanju Bolade Casel, Aisha Kahlil, Louise Robinson, and Shirley Childress Saxton (Sign Language interpreter).
PREVIEW
Sweet Honey in the Rock
Who: Internationally renowned, Grammy-winning African-American a cappella ensemble.
What: A mix of gospel, African chants, jazz, blues, soul and more.
Where: Hill Auditorium, 825 N. University Ave.
When: 8 p.m. Friday, Feb. 17.
How much: $10-$46. Info: 734-764-2538 or www.ums.org.
With a passion for creating music out of the rich textures of African-American legacy and traditions, Sweet Honey In The Rock has an amazing vocal prowess that captures the complex sounds of blues, spirituals, traditional gospel hymns, rap, reggae, African chants, hip-hop, ancient lullabies and jazz improvisation. The group's collective voice, occasionally accompanied by hand percussion instruments, produces a sound filled with soulful harmonies and intricate rhythms.
The name of the Washington, D.C., based group, founded in 1973, was derived from a song, based on Psalm 81:16, which told of a land so rich that when rocks were cracked open, honey flowed from them.
Despite its social justice focus, Maillard said the goal of Sweet Honey in the Rock is not particularly political.
"We really want people at the end of our show to be really uplifted, not for people to feel bad about the political system or social injustice," Maillard said. … "We want people to uplifted and feel strong when they leave a Sweet Honey concert so they can go out and do good work."
Although it may seem like a challenge to stay positive, Maillard said it really comes down to one thing.
"You appeal to what is good an righteous and true, not what the media tells you is true, not what appearances and illusions tell you is true (but) what people know is true in their hearts," she said.
"Everybody wants to be able to survive, to live well in good health, they want their loved ones taken care of, individuals want to feel cared for and loved. You want to know that though it was possibly even harder for your ancestors, look where you are today. Look at what you can do for your offspring, or just for future generations. What is it you can do to ensure that there's even going to be a planet, a decent, livable planet. That's the way you uplift people. You reach into their hearts and you do songs and sounds that really touch the soul. A good 99.9 percent of our music is right there."
It's been a busy couple of years for Sweet Honey since their last appearance here, in 2009, the same year the ensemble was honored to accept an invitation from President Barack and Michelle Obama to give a concert at the White House.
In 2010, the group's moving single "Are We A Nation?"—released to promote debate and social awareness about Arizona's controversial immigration law—was honored by The Songwriter's Association of Washington with a Gold Medal in its Mid-Atlantic Song Contest.
Late last year, the group helped celebrate the 30th anniversary of the famed Blue Note jazz club in New York City.
The 2011-2012 season finds Sweet Honey celebrating its 38th birthday. In April, the group will premiere a new work, "Affirmations: A Musical Journey of Hope and Aspiration," in performance with the National Symphony Orchestra at the Kennedy Center.
"I really don't think anyone thought we would be approaching 40 years," Maillard said, reflecting on the group's longevity. "It's OK. A lot of groups have been around a long time. We're really are looking at how to continue Sweet Honey's work in a way that really supports who were are in the world and who we are as individuals."