Posted on
Wed, Feb 8, 2012 : 12:01 p.m.
Valentine's Day in Ann Arbor starts with the Oasis Hot Tub Gardens
By Richard Retyi
Valentine's Day can be stressful to new and old relationships, but I'm here to offer a secret advantage. It's not roses - boring! It's not a romantic dinner destination - who wants to engage in intimate times after a full meal? And it's not crafting something special for the one you love, because we know you suck at needlepoint.
If you're trying to make an impression and you need to knock one out of the park, look no further than The Oasis Hot Tub Gardens. Seriously.


Stop shaking your head. Like many of you I was a non-believer. When I thought hot tubs I thought honeymoon suites in Niagara Falls, my uncle's place in Toronto and protozoa soup - all three pretty gross (no offense Uncle Sandor). I'd driven past The Oasis a thousand times but never seriously considered stopping. Year after year, they stayed in business, and, year after year, I decided not to pop in and take a soak.

"GETTING A MASSAGE IS PAYING A STRANGER TO TOUCH ALL OVER YOU"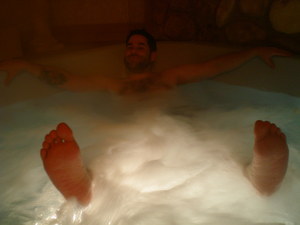 photo by Rachel Smith
While doing some research on the Hot Tub Gardens, I learned a lot of townies don't seem to share my apprehension - like my girlfriend
Rachel
. Born and bred in Ann Arbor, Rachel was a two-time visitor to The Oasis, once for a birthday party in high school and once for a romantic getaway in college with a guy who is totally not cooler or better looking or in-general better than me, no matter what his Facebook page might look like or how high he ranks in Google search. I scoffed aloud at both of Rachel's tales. A birthday party. At a hot tub garden? A legitimate romantic getaway? At a hot tub garden? A. Hot. Tub. Garden? What about tobogganing or getting a couples' massage?
"Getting a massage is weirder than going to the Hot Tub Gardens," Rachel said. "Getting a massage is paying a stranger to touch all over you."
Fair enough.
So eight years after moving to Ann Arbor, eight years of driving past The Oasis and rolling my eyes, I finally decided to give the Hot Tub Gardens a chance. Rachel was all too excited to join me.
WE HOT-TUBBED INCOGNITO UNDER THE GAZE OF LITTLE CUPID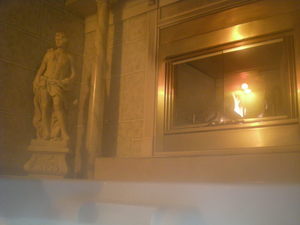 photo by Richard Retyi
We hot-tubbed incognito on a Tuesday night at 7:30 p.m. When making the reservation, I gave the receptionist my real last name but didn't reveal my affiliation with AnnArbor.com, nor the fact that I was writing a feature about the Hot Tub Garden's potential as a secret weapon in some lucky gentleman or lady's Valentine's Day holster.
When we arrived, we were escorted to the
Santorini Garden
, decorated in a classical Greek style with Ionic columns, a statue of Cupid and a roaring fireplace. We slipped into our stylish swimwear in the indoor changing room before heading outdoors - yes - outdoors - to the burbling hot tub. The majority of the tubs at The Oasis are outdoors, which makes sense once you're neck-deep in 102-degree water sweating profusely. Despite temperatures in the low 20s, our garden was plenty warm. The in-house sound system with a variety of channel options (romantic, '90s rock, mariachi) piped through a speaker next to the tub, setting the mood for the evening. I chose the Valentine's Day channel to start. Romance!
The experience was pretty great. When are hot tubs not enjoyable? In my preconceived thoughts, I imagined checking-in at a poorly-lit front desk and being led down a pink neon-lit hallway, trying not to bump into bathrobe-clad patrons with lazy eyes while stepping around random wet patches on the carpet, before being ushered into a dank room smelling of chlorine and desperation lit by a single, naked light bulb suspended in the middle of the room by a frayed cord, swaying back and forth in some unknown breeze. Not so. It was clean, the staff professional and it felt a lot more like an upscale spa than a massage parlor in Little Athens.
NO FOOD, NO BOOZE, BUT PLENTY OF PARTY ROCK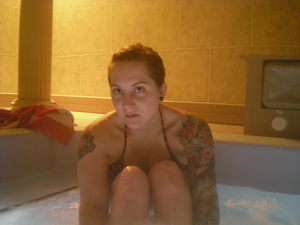 photo by Richard Retyi
Bubble bath, alcohol and food are prohibited, but the Oasis offers a special at the front desk where you can get a bottle of sparkling grape juice and two glasses for $10, presumably to drink in the parking lot after your soak (or in your change room, I guess). All I brought was my notebook, my camera and my skeptical attitude but a great night was had. The company didn't hurt either. Romance!
After the front desk called us on the tub-side phone to give us our 12-minute warning, we toweled off and enjoyed one last song on the Party Rock channel before gathering our stuff. I peeked into a few other gardens on the stroll back to the front desk - the
Vancouver Garden
(native soil!) and the
British Isle Garden
(trees!) - each as nice as the Santorini. We walked through the lobby where couples were still checking in and I was shocked by the number of vehicles in the parking lot (17!) on a random Tuesday. No wonder they're still in business.
My final analysis: Trust me, romantic gentlemen and ladies. If you want to make an impression this Valentine's Day, ditch the roses, forget about that sundae eating contest and make a reservation at The Oasis Hot Tub Gardens. Bring an extra towel and a good attitude and I promise it'll be one of the best Valentine's Days you ever have. Romance!
Richard Retyi is quite the romantic. Take his word for it. While not wooing his girlfriend with on-assignment excursions or writing his bi-weeklyish column Lie to Your Cats About Santa, he works at Ann Arbor digital marketing agency Fluency Media as their social media manager. Follow him on Twitter at @RichRetyi or read more of his stuff at RichRetyi.com. Good luck this Valentine's Day!