Posted on
Mon, Jan 23, 2012 : 7:51 a.m.
WCC exhibit takes a compelling look at 'The Legend of John Brown'
By John Carlos Cantu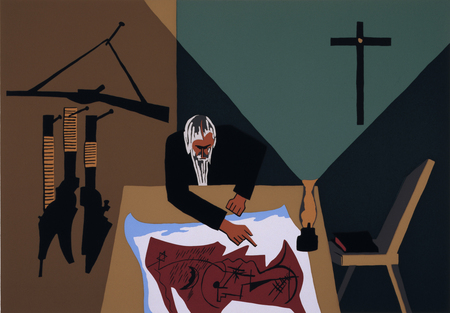 courtesy of The Detroit Institute of Art; copyright the Jacob and Gwendolyn Lawrence Foundation, Seattle/Artists Rights Society New York.
Called "the father of American terrorism" by PBS documentarian Ken Chowder and "one of the most perceptive human beings of his generation" by University of Massachusetts History Professor Stephen B. Oates, abolitionist John Brown has served as a historic lightning rod since his raid on Harper's Ferry, Va. in 1859.
For this reason, Washtenaw Community College's "The Legend of John Brown" is a significant local visual arts event. For Brown's actions—his life, his morals, and his manner of death by hanging for inciting treason against the Commonwealth of Virginia—are all topics of endless consideration.
Born in Torrington, Conn. on May 9, 1800, Brown spent his youth in Ohio, where he was taught by his parents to revere the Bible and hate slavery. A tanner by trade, Brown organized several tanneries; as well as speculated in land sales, raised sheep, and established a brokerage for wool growers. But each of his businesses failed because his social and political concerns didn't leave him with enough time to be an adequate businessman.
It was as his last business failed that he began to brood over the social inequities of the oppressed—concerned in particular with the issue of slavery—and for two years he and his family lived in a freedmen's community in North Elba, NY, where he became a militant organizer for a self-protection league of free African-Americans and fugitive slaves.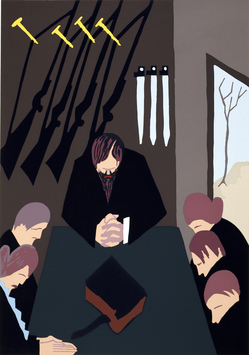 courtesy of The Detroit Institute of Art; copyright the Jacob and Gwendolyn Lawrence Foundation, Seattle/Artists Rights Society New York.
Given financial support from New England abolitionists, Brown began raiding plantations in Missouri and in the summer of 1859, he transferred his base to western Virginia, where on the night of Oct. 16, he and 21 men raided the government armory at Harpers Ferry. Brown believed this would be the start of a nationwide insurrection against slavery; but instead, a company of U.S. Marines under Col. Robert E. Lee trapped the raiders inside the town's firehouse and stormed the building on Oct. 18. The fighting ended with 10 of Brown' militia killed and 7 captured, Brown being among them.
The rest, as they say, is 19th century American history. But in the mid-20th century, Brown's life and death attracted the attention of one of America's most widely respected African-American painters, Jacob Lawrence.
From his late-1930s 60-panel narrative paintings called "The Migration Series" depicting the mass migration of African Americans from the rural South to the industrial North after World War I to his 1973 five paintings on the westward journey of African American pioneer George Washington Bush, Lawrence drew inspiration from important periods in African-American history.
Many consider his "The Legend of John Brown" series to be his crowning achievement. This work originated as a 1941suite of 22 gouache paintings, and in 1977 he crafted the additional series of serigraph prints that is currently on display at WCC's Gallery One.
The prints are notable for their energetic color and the power with which Lawrence creates his imagery. One of the most important proponents of American cubism—or as Lawrence himself described it, "dynamic cubism"—he created a style of art that was inspired in part by France's synthetic cubism (with its emphasis on flattened, stylized geometry); but far more important, imbued with the vibrancy of Harlem's famed 1920s Renaissance.
As such, Lawrence is not in the least objective in this work. Rather, he intends to craft a narrative that reflects John Brown as both a historical character and a proponent of a stirring personal ethic.
After all, there is a moral contradiction in Brown's actions. His doggedness and the violence of his methods have been hailed as either heroic or foolish.
Lawrence neither endorses nor condemns Brown's violence. Instead, Lawrence simply lays out the pertinent facts and allows the record to speak for itself. In this manner, he resolves the internal contradictory tension that has cast Brown as a martyr for equal rights by many Americans while also making him an intolerant figure who jettisoned law and order by others.
This strategy makes Lawrence's "John Brown" a fascinating primer in art as history. His serigraphs are compositionally structured in bold (indeed, "dynamic") geometric patterns whose mostly unadulterated color schemes activate the composition. Only rarely does Lawrence allow himself a bit of decorative detail.
As such, this is a display of keenly developed visual ideas. The absence of superfluous detail heightens the composition's emotional impact. Therefore, serigraph No. 2, "For 40 years, John Brown reflected on the hopeless and miserable condition of the slaves," finds Brown and his family gravely seated around a table with heads bowed; painted in sharp angles where the thrust of line effectively gives the appearance of strength and determination.
Likewise, serigraph No. 13, "After long meditation, (Brown) planned to fortify himself somewhere in the mountains of Virginia or Tennessee and there make raids on the surrounding plantations, freeing slaves," finds an equally angular Brown depicted surrounded by weapons while forcefully pointing at a map of the United States as Lawrence again pares down his composition to its essential elements.
On the other hand, serigraph No. 19, "Sunday, October 16, 1859, John Brown with a company of 21 men, white and black, marched on Harpers Ferry," finds this marching ragtag militia crafted as abstracted rectangles and triangles set against an undifferentiated landscape. Totally conceptualized, this raw geometry conveys a muscular purpose that compositional detail would only compromise.
In the series' concluding composition, Brown hangs limply from a rope against a bright blue sky. Serigraph 22, "John Brown was found 'Guilty of treason and murder in the 1st degree' and was hanged in Charles Town, Virginia on December 2, 1859," abnormally elongates his body, and this arched elasticity is decidedly in contrast with the unyielding determination of his thought and deed.
With this final image, Lawrence conveys a resolve that recalls John Brown's grit. Neither an endorsement, nor an apology, Lawrence's final image conveys a steely strength that transcends politics while also remind us of John Brown's seemingly inevitable life wager.
"The Legend of John Brown" will continue through February 17 at Washtenaw Community College Gallery One, Student Center Building Room 108, 4800 E. Huron River Dr. Gallery hours are 10 a.m. to 6 p.m., Monday-Tuesday; 10 a.m. to 8 p.m., Wednesday-Thursday; and 10 a.m. to noon, Friday. For information, call 734-477-8512.