Posted on
Wed, Mar 9, 2011 : 5:51 a.m.
Self-portraiture exhibit showcases the 'Faces' of the WSG Gallery
By John Carlos Cantu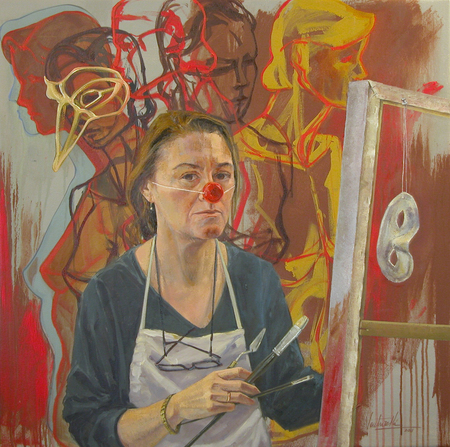 WSG Gallery's "Faces" finds 16 of Ann Arbor's most prominent artists exploring a common fact of life that should be the closest part of us—yet is often, paradoxically, further away than we think.
Portraits and self-portraits have been of interest throughout the history of art. There is likely no subject as beloved as the human face, and sitting for a portrait is flattering.
But self-portraiture is another thing. For starters, most of us aren't talented enough to really capture what it is we think we see. The nebulous middle ground between how the artist sees the self and the perspective he or she chooses to depict it creates endless fascination.
As this lively display demonstrates, these two aspects of self-image don't always yield predictable results. The ways these artists see themselves are as out-of-the-ordinary as their art itself.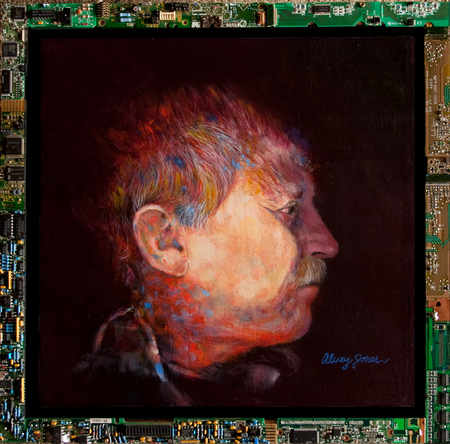 There are as many differing examples of expression here as there are artists in the WSG stable. And there are also abstractions on display that would ordinarily not be considered portraiture except perhaps for their punning titles—but they are fair game, too.
The entire WSG cadre is on hand: Barbara Brown, Francesc Burgos, Lynda Cole, Karie Wagner Coron, Connie Cronenwett, Nina Hauser, Michelle A. Hegyi, Marlee Hoffman, Alvey Jones, Adrienne Kaplan, Valerie Mann, Norma Penchansky-Glasser, Middy Potter, Elizabeth Schwartz, Nora Venturelli, and Dee Ann Segula. Each WSG member is represented by at least one artwork. And given these talents' stature, it's likely we'll never get a better introduction to who they are.
Easily the most outgoing of the many representational portraits is Marlee Hoffman's "Welcome to the WSG Gallery" watercolor painting. Not only is this lively self-portrait affable; more significantly, the painting reflects the sort of commercial conviviality any good-natured art group strives toward. Indeed, the most inviting aspect of this delightful work (outside, perhaps, its cheerful ambiance) is Hoffman's broad smile as she depicts herself pouring her visitors a hearty drink.
On the other hand, the most interesting of the inward-looking portraits is Connie Cronenwett's pigment ink on archival paper color photograph "Self-Portrait: Hands and Eyes." Cronenwett has composed a haunting self-image through a tiny mirror reflecting her darting eyes as her two hands hold her visage in place. Psychologically charged with multiple meanings; as well as supremely structured, Cronenwett's strategic sliver of a self-portrait says precisely what she wants it to say.
Minimalist sculptor Francesc Burgos has contributed another photographic marvel that reflects his interest in diminutive line. His "portrait of the artist in large pixels" consists of countless digital pixels that have been individually built up to craft the portrait's whole. It dramatically moves in and out of focus depending on the distance from which it's seen.
Middy Potter's ceramic "Middy by Middy (casting of someone's face who looks sort of like me)" is a tacit acknowledgement that portraiture of any sort can only go so far as a self-report; although, admittedly, this bright yellow clay mask does in fact sort of look like him. More accurately, it's a carefully observed three-dimensional caricature whose totemic appearance suggests an identity who goes by the name of the artist.
Finally, Barbara Brown goes the way of heady abstraction with what passes for her self-portrait. Brown's folded art book with slipcase "Best to Walk: An Artist's GPS" only obliquely touches on the display's theme. But this diminutive book on pedestal, composed of 14 alternating folded small maps, does in fact touch on an interesting idea.
Just as we ordinarily would orient ourselves to an unfamiliar locale through the twists and turns of a map, so do we navigate ourselves through the many twists and turns of personalities. Brown carries this notion to its logical conclusion. For in an odd sort of way, maps might just be the most accurate way to illustrate the reports that constitute self-portraiture: Just follow the crisscrossing outlines.
"Faces" will continue through March 27 at WSG Gallery, 306 S. Main St. Gallery hours are noon to 6 p.m., Tuesday-Thursday; noon to 9 p.m., Friday-Saturday; and noon to 5 p.m., Sunday. For information, call 734-761-2287.