Posted on
Tue, Nov 17, 2009 : 5:34 a.m.
Nora Venturelli insightful, intense in "Figures & Spaces" at WSG Gallery
By John Carlos Cantu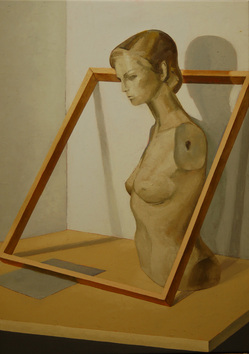 Image courtesy WSG Gallery.
Nora Venturelli
's latest exhibit shows us this local arts educator has reached the point where she's not content to just polish her talent. Through a continual refinement, she's intent on depicting the psychological interior of human life through its external manifestation. And her
"Figures & Spaces"
at the
WSG Gallery
do just this.
The exhibit is atypical of Venturelli's prior work. Faculty at both Eastern Michigan University and the University of Michigan, she's likely best known for her pastoral Michigan landscapes. That's now changed.
As she says of this WSG exhibit featuring three distinct sets of figurative art, "My figure drawings have been developing throughout the years. Within this group of drawings, I am designing and organizing the space, creating an energetic action between the figures.
"The 'Vice Versa' series started about three years ago," continues Venturelli. "The title of the series plays with the idea of my charcoal drawings becoming paintings. Simultaneously, the paintings hold the linear characteristics of a drawing.
"The 'Spaces' series," she concludes, "grounds the show with a quieter, more tranquil feeling. I love to mix paint and I wanted to show that in these introspective, allegorical paintings."
Fair enough. Working from complexity to simplicity, which also means from the visually concrete to the visually abstract, Venturelli's "allegorical" art indeed refers more properly to the paintings than the drawings. Yet all the works in this display are deeply introspective — it's just that the more elemental the art gets, the more contemplative it becomes.
Venturelli's four "Spaces" oil on linen paintings have a detachment that's an effect of their intellectual rendering as well as their smart composition. Each artwork — "Spaces No. 1, 2 and 6" — features the vague, brooding ambiance one finds in the metaphysical paintings of Giorgio de Chirico.
But by contrast to de Chirico's mysterious landscapes, Venturelli's "Spaces" — featuring the sculptural bust of a female model framed by a bracing wooden frame — are refined renderings of genre elements turned in upon themselves. Their meaning is enigmatic.
As such, there's nothing especially unusual in these artworks. Rather, it's their ordinariness — coupled with their accomplished execution — that make the paintings puzzling. The placement of the frame on the bust is inert, but there's a bare symbolism that charges each painting.
Taken alone, these "Spaces" paintings would indicate Venturelli's aesthetic is moving in a unified direction. But the other two series on display find her cutting across this grain.
As a sort of conceptual middle ground, Venturelli's acrylic on canvas "Vice Versa Series" paintings feature others - lots of others, in fact.
Yet her bright acrylic palette heightens their anonymous appearance, making each model a visual exclamation mark.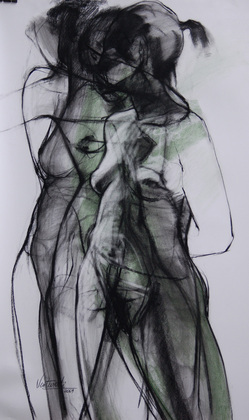 Image courtesy WSG Gallery.
All of which leads to the exhibit's masterworks. Venturelli's four charcoal and pastel "Drawings" are easily among the most insightful figurative artworks to show in Ann Arbor this year. As is the case with the "Vice Versa Series," these "Drawings" are depicted in a gestural sweep of figurative motion that makes it difficult to determine whether she's portraying a single model or a group of models.
What's not difficult to determine is the intensity of this art. Strategically using pastels to highlight the drawing's background the way a cinematographer would use key lighting in a film setting, these artworks ("Red," "Lament," "Moving On" and "Passing By") are exceptional visual meditations on the human psyche through their dramatic twist of a neck, offhanded shrug, or lowering of a brow.
By challenging her line to carry the burden of her composition, Venturelli has condensed her art to its elemental sufficiency. Sweeping across the expanse of her reflective figures captured fluidly in movement, Venturelli's hand and eye meld seamlessly in rudimentary truth. The result is a virtuoso set of "Drawings" of the rarest perception.
"Nora Venturelli: Figures & Spaces" continues through Dec. 6 at WSG Gallery, 306 South Main Street. Gallery hours are noon-6 p.m., Tuesday-Thursday; noon-9 p.m., Friday-Saturday; and noon-5 p.m., Sunday. For information, call 734-761-2287.
John Carlos Cantú is a free-lance writer who reviews art for AnnArbor.com.