Posted on
Fri, Jan 7, 2011 : 5:52 a.m.
January gig perfect time for Yellow Room Gang to kill winter's chill with concert CD
By Roger LeLievre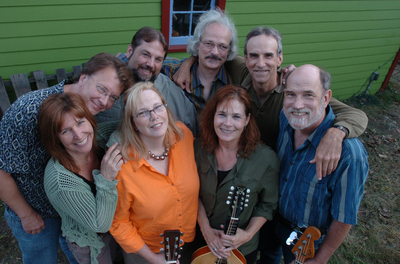 The phrase "recorded live before a studio audience" now holds special meaning for members of Ann Arbor folk-acoustic collective The Yellow Room Gang.
Their newest CD, a collection of 16 originals, was recorded over two nights in front of a small audience of invited friends and fans at Ann Arbor's Big Sky studio last August. The sessions, preceded by a potluck prepared by members of the group, were such as success "I don't think any of us want to do another album any other way," said Yellow Room member David Tamulevich.
The Yellow Room Gang offers songs from the CD — called, appropriately, "Live at Big Sky" — Friday night, Jan. 14, at The Ark.
For anyone unfamiliar with the group, The Yellow Room Gang is a cadre of area singer-songwriters who convene monthly in the living area of Tamulevich's Ann Arbor home to work the kinks out of new songs, brainstorm and offer a helpful critique of each other's work.
Besides Tamulevich, other Yellow Room Gang members are "One Shining Moment" composer David Barrett, Detroit native / Great American Song Contest winner Jim Bizer, singer-wongwriter Annie Capps, Irish-American singer Kitty Donohoe, multi-Detroit Music Award winner Jan Krist, Tamulevich's singer-songwriter pal Michael Hough and radio show host / musician Matt Watroba.
Tamulevich said those attending the sessions seemed to enjoy the rare opportunity to be in the studio, and playing for such an enthusiastic audience really allowed the group to connect.
Listen to a selection of Yellow Room Gang songs:

"We think about the interaction between the Gang as part of what is so special … it's just joking and friendly and everyone enjoys it," he said. "Most of those people had never been in the studio before, so they could see how it was done. We would stop, or do songs twice if somebody made a mistake — it was like a party."
Listeners will know the album was recorded live.
"There's some bantering, some jokes," Tamulevich said. "You can hear the applause. The energy of a live performance, that's what we got. We heard from all the people who attended, and they were all 'Do it again, do it again.' They just had a great time."
He said the results were worth the extra effort.
PREVIEW
Who: Top area singer-songwriters David Barrett, Jim Bizer, Annie Capps, Kitty Donohoe, Jan Krist, Michael Hough, David Tamulevich and Matt Watroba.
What: Original tunes in the folk-acoustic vein, many of which grow out of the members' Ann Arbor-based monthly musical brainstorming and critique sessions. The group has just released the CD "Live at Big Sky."
Where: The Ark, 316 South Main Street.
When: 8 p.m. Friday, January 14.
How much: $15. Tickets available from The Ark box office (with no service charge); Michigan Union Ticket Office, 530 South State Street; Herb David Guitar Studio, 302 East Liberty Street; or Ticketmaster.com.
"We're really, really pleased with it. It's such a strong batch of songs," said Tamulevich. "We did some Yellow Room Gang favorites from concerts, like 'Do What You Love' and 'How Will I Leave.' We did 'Simple Faith,' which isn't on the record but will be available as a free download. Jan and I both debuted new songs that night, and there's that energy. I think Jan's song ("Sweet Dreams ") is my favorite. It was her first time performing it, the audience's first time hearing it."
The CD will be available at The Ark show, which will include a mix of audience of favorites and some new material.
"We'll probably play Jan's new song and my new song. And we worked out some harmonies for a very funny Jim Bizer song that's called 'O.H.I.O' — it's just a typical quirky thing," he said. "The thing about Yellow Room Gang shows is you never know what people are going to do. It's always something new and it always just depends on the flow."
In the case of The Yellow Room Gang, familiarity breeds intimacy.
"It's been a lot of years now — we've really gotten to know each other. It's like a little community, a little family. And I think that's part of the reason why we marvel at every show … there's always just something special there for us and for audiences," Tamulevich concluded.

Roger LeLievre is a free-lance writer who covers music for AnnArbor.com.