Posted on
Sun, Feb 26, 2012 : 5:17 a.m.
Ypsilanti Library exhibit showcasing outstanding local pastels
By John Carlos Cantu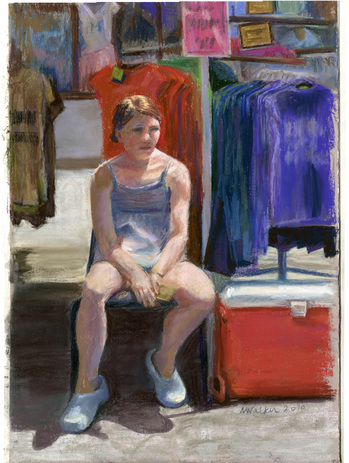 This year's "Ann Arbor Area Pastelists Winter 2012 Exhibit" at the Ypsilanti District Library Whittaker Road Branch features some this local arts group's best work from the last couple of years.
The display's format is simple enough. There's no judging—and therefore no prize winners—just submissions (in some instances, multiple submissions) from this group's 35 Ann Arbor Area members.
As club representative Carolyn Weins says, "The Ann Arbor Area Pastelists is a group of artists that formed together 12 years ago. It is an offshoot of the Great Lakes Pastel Society, which is based in Grand Rapids.
"There were many GLPS members living in this area, so it was decided, by a few core members, to form a local critique group that would be called Ann Arbor Area Pastelists ... AAPS meets monthly for informal critiques and informational meetings."
Using this dextrous medium for all it's worth, there's a tremendous expertise in this year's AAAP edition.
Make no mistake about it: The pastel medium—at its most basic and flamboyant—is the star of the event. Between soft pastels, hard pastels, and pastel pencils—as well as strategic oils, conte, charcoal, and pencil—the pigments and binders in this display have a multitude of purposes.
Artists in the display are Peggy N. Brewer, Susan Clinthorne, Jane Darling, Marcy Gray, Marie Glysson, Julia Hardy, Linda Klenczar, Janet Kohler, Susan Lindstrom, Wes Rae, Tony Salemi, Carol Sphalinger, Sandy Steed, Terry Titus, Tanja van der Voo, Jill Stefani Wagner, Marty Walker, and Weins.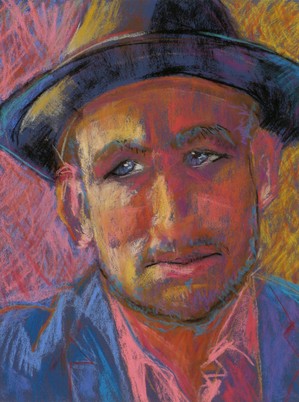 Brewer's "Tom" and Walker's "Art Fair Water Vendor" give us a sense of the expressive range possible in pastel portraiture. For example, Brewer uses a cheerful palette to craftily plumb her model's psychology. Using a scrubbed red application with blue outline to craft "Tom's" facial features, Brewer also uses a cross-hatching curvilinear spray of background pinks and oranges to build up expressive density. This makes her "Tom" a study of clever contrasts where tonality and emotional depth reflect differing sensibilities.
Walker's "Art Fair Water Vendor" uses a wide palette to block her figure sitting on a bench during the heat of the annual Ann Arbor Art Fair. The crafting of expression through pastel remains the same, but Walker also uses her medium objectively. Her model sits surrounded by colorful shirts and a shiny plastic tub whose stark reds and blues energize the corners of the painting while the model herself sits pensively in the heart of the composition.
Most of us think of landscape painting when we think of pastel. It's likely this is because of pastel's ability to depict emotion, which finds an application in nature. Of the many excellent landscape paintings in the exhibit, Hardy's "Down by the Bayou" and van der Voo's "Sunset on Lake Michigan" illustrate the qualities talented landscape pastel artists bring to their work.
Hardy's green palette sets a contemplative mood with impressive control. Her slow-moving wetland is built through an application of pastel pencil depicted against a network of tree trunks whose shadows are variegated in a brushy abstraction. Couple this complex strategy with crosshatched moss strewn across the painting's waterline, and "Down by the Bayou" is an undulating pastel marvel.
Van der Voo's "Sunset on Lake Michigan," on the other hand, is pastel abstraction rendered masterfully. Using a rich brown palette, van der Voo creates an idyll in her painting that's as hypnotic as it is evocative of a Lake Michigan summer. Skillfully layering her pastels until their richness saturates the eye, van der Voo's palette takes on a life of its own. She harnesses its splendor in this glorious Great Lakes painting.
"Ann Arbor Area Pastelists Winter 2012 Exhibit" will continue through March 15 at the Ypsilanti Public Library-Whittaker Road Branch, 5577 Whittaker Road, Ypsilanti. Community Room Exhibit hours are 9 a.m.-9 p.m. Monday-Thursday; 10 a.m. to 6 p.m., Friday-Saturday; and 1-5 p.m. Sunday. For information, call 734-482-4110.