Posted on
Sat, Apr 7, 2012 : 5:53 a.m.
Zakir Hussain and percussion greats put spotlight on rarely heard instruments from India
By Roger LeLievre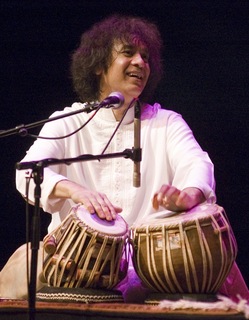 photo by Susana Millman
Indian percussion virtuoso
Zakir Hussain
is clearly thrilled about his upcoming visit to Ann Arbor, accompanied by five of his fellow percussion masters.
"We are excited about getting out to the Midwest part of the world. (We'll) blow your socks off," the tabla great promised recently by phone from his San Francisco Bay-area home. Hussain, et al, will perform Thursday night in Hill Auditorium in a University Musical Society-sponsored show.
An acclaimed composer who has written scores for Hollywood (and Bollywood) productions, the Grammy Award-winning Hussain is heir to a tradition learned from his father, tabla maestro Ustad Allarakha. Hussain created the Masters of Percussion tour as an extension of Allarakha's legacy.
For his Ann Arbor performance, Hussain will be joined for a program of classical Indian ragas and rhythmic fusion sounds. Performing with him will be Fazal Qureshi, tabla and kanjira; Rakesh Chaurasia, bansuri; Dilshad Khan, sarangi; Navin Sharma, dholak; and Abbos Kosimov, doyra. The dancing drummers of the Meitei Pung Cholom Performing Troupe will also perform with the ensemble.
"The Masters of Percussion I don't think have been to Ann Arbor in 12 years," Hussain said. "It's a group that has been designed to showcase rarely heard rhythm traditions of India. Tabla is one of the most famous instruments from India, which has been played in this part of the world since the late 1950s. … But then there are these other percussion instruments that are revered and honored by millions of people living in the region from where these drums come from.
"You kind of get a bird's-eye view of what Indian rhythmic traditions and melodic traditions are about in these regions of India and how they are intimately connected with the way of life in those parts of the world and represent how the people live," Hussain said of the show.
PREVIEW
Zakir Hussain & Masters of Percussion
Who: Grammy Award-winning Indian percussionist, with five of his peers.
What: Genre-defying Indian musical collaborations.
Where: Hill Auditorium, 825 N. University Ave.
When: 7:30 p.m. Thursday, April 12.
How much: $10-$48. Buy tickets by phone at 734-764-2538 or online at www.ums.org. Tickets may also be purchased in person at the League Ticket Office, 911 North University Ave. UMS Ticket Office hours: Monday-Friday 9 a.m.-5 p.m., Saturday 10 a.m.-1 p.m., closed Sunday.
This performance marks the third UMS appearance by Hussain. He first performed in March 2000 in with Ali Akbar Khan and last appeared in March 2009 with Pandit Shivkumar Sharma.
Widely considered one of the chief architects of the contemporary world music movement, Hussain has been a part of many historic collaborations, including Shakti (which he founded with John McLaughlin and L. Shankar in the early 1970s), the Diga Rhythm Band, Making Music, Planet Drum (with Mickey Hart), Tabla Beat Science, and Sangam.
Hussain has recorded and performed with artists are as diverse as George Harrison, Joe Henderson, Van Morrison, Rennie Harris and the Kodo drummers of Japan. He has earned widespread recognition as a composer, receiving the honor of writing the opening music for the 1996 Summer Olympics. In 2002, his commissioned work for choreographer Mark Morris's "Kolam" premiered as part of Yo-Yo Ma's "Silk Road Project."
Despite his fame and wide array of accomplishments, Hussain said he prefers that the ensemble be considered not just on his skills, but on the talents of everyone in the group.
"I hope audiences will come, not because my name is there—I'm just one little part of the show—but for each musician on the stage who is a master in his own right and is revered and loved in his part of the world," he said. "The audiences should come and realize they are not watching just Zakir Hussain but they are watching so many Zakir Hussain-like musicians on the stage."
A highlight of the show, he added, will be the Meitei Pung Cholom Performing Troupe's dancing drummers.
"They tie their drums to their body and while they play, they dance. And the dance is very acrobatic—spins and movement that echo what the rhythms are like that they are playing. … That is something so unique and unusual, and then being able to incorporate that onto the stage with other drummers we have who are not dancing—to make that work and interact in a way that everything looks like it was meant to be … "It's a very fun show to watch and to hear," Hussain said.