Posted on
Mon, Sep 20, 2010 : 3:19 p.m.
Zingerman's Roadhouse featured on Food Network show tonight
By AnnArbor.com Staff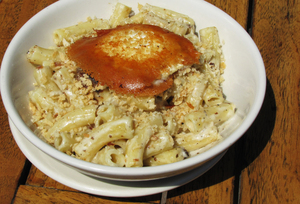 photo courtesy of Zingerman's Roadhouse
This week, Food Network program host Alton Brown is taking a special look at "America's Best." And the search for the country's best comfort foods brought the network to Zingerman's Roadhouse in Ann Arbor.
The episode highlights the Roadhouse's famed macaroni and cheese dishes, of which the show's website says: "At this restaurant companion to the popular mail-order food catalog, you'll find at least five awesome takes on mac and cheese. Start with the classic (made with aged Vermont cheddar) and return to try all the others. The chefs cook each batch to order in a cast-iron skillet, so it arrives with a nice caramelized crust."
The program airs at 9 tonight on Food Network and re-airs tomorrow and Sunday.