Posted on
Mon, Dec 27, 2010 : 5:50 a.m.
Myra Klarman photos at Cafe Zola creatively recall Summer Festival fun
By John Carlos Cantu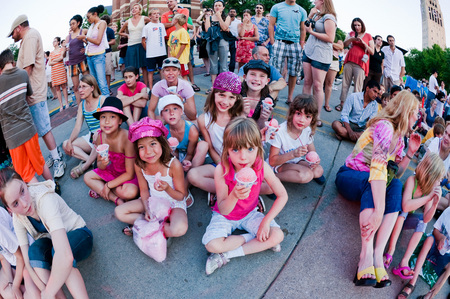 We can't really say the third time's the charm for Myra Klarman, because all three exhibits she's mounted at Cafe Zola since becoming the Ann Arbor's Summer Festival's official photographer have been charming in their own way.
What we can say is Klarman's "Stop.Motion" reaffirms her knack for capturing the excitement of summer in Ann Arbor. As with her 2009 "Re.Fresh" and 2008's "Outside.In," Klarman's views of the Summer Festival create a community snapshot.
Under Klarman's system, processing and formatting make the images lag a year until they're mounted during the next Summer Festival, then reprised at Zola. So this exhibit consists of six oversized 2009 images caught with her trusty Nikon D3, then mounted around the restaurant's walls.
"The festival is always visually inspiring," says Klarman of 2009's images. "There's the perfect combination of children, live music, and dancing — all aglow under beautiful evening light. And each night also offers completely unpredictable moments and experiences."
Rightly said. It's becoming obvious this unpredictability is what Klarman excels at finding. Each of her six-foot-wide compositions (two works consist of photo collages) catch Ann Arbor at its least reserved. Klarman's talent consists of catching choice moments (out of several hundred images taken) that have a special authenticity.
Take, for one prime example, "Pretty in Pink."
Let's start with its compositional values: Klarman's fish-eye lens (coupled with the work's expansive format) makes the photo psychologically inclusive by absorbing the viewer's peripheral vision through the work's visual recession from a group of foreground children to the U-M's background Burton Tower and Alumni Center.
However, Klarman's eye seeks more than mere formal composition; equally significant is her use of color. These kids' lively pinks and reds contrast nicely with the ground's gray receding sidewalk; just as strategic chromatic opposites in other loungers clothing make the work a sort of photographic eye candy.
Tthese intuitive elements, coupled with a hard earned professional technique, contribute to the work's vitality—as well, of course, the youthful models' good Tree Town cheer. All of which makes "Pretty in Pink" a superlative photojournalistic artwork in a display of equal artful quality.
"Myra Klarman: Stop.Motion" will continue through Feb. 1 at Cafe Zola, 112 W. Washington St. Exhibit hours are 7 a.m.-4 p.m. daily; 5-10 p.m. Sunday-Thursday; and 5-11 p.m., Friday-Saturday. For information, call 734-769-2020.