Posted on
Thu, Dec 2, 2010 : 11:05 a.m.
Americans exaggerate reports of church attendance, UM study reveals
By Pam Stout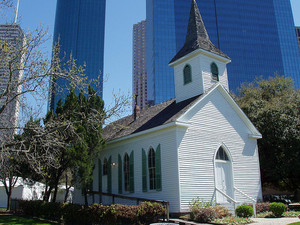 Photo by Flickr user little black spot
Americans have often been touted as more religious compared to people in other developed nations. But this may not actually be the case, at least when it comes to attendance.
A new University of Michigan study finds that Americans are much more likely to overreport their attendance at religious services than are people in many other developed countries.
Philip Brenner, a research fellow at the U-M Institute for Social Research (ISR) and the author of the study, found, "In the U.S., and to a lesser extent in Canada, the gap between what we say and what we do is substantial and has been so for the last several decades."
The study will appear in a forthcoming issue of Public Opinion Quarterly.
Brenner analyzed conventional survey data asking respondents how often they attend religious services and compared it to time diary data recording weekend activities. The data came from more than 400 surveys of more than 750,000 individuals from 1975 to 2008.
America maintains a gap of 10 to 18 percentage points between what people say they do on survey questions and what time diary data says they actually do, the study shows. While surveys show American church attendance rates between 35 and 45 percent, the time diary data reveal attendance rates of just 24 to 25 percent. The latter rate is more in line with a number of European countries.
In contrast, outside of North America, even in high-attendance Ireland, the gap only ranges from about four to eight points. View a chart of some of the results here.
So why do Americans tend to exaggerate reports of church attendance? Brenner isn't sure it is necessarily intentional.
"When someone is asked a question about religious attendance, people often interpret the question as asking about their own religious identity," Brenner explained. They might hear, "Am I the type of person who would attend church?"
The time studies, on the other hand, didn't specifically ask about religious attendance, Brenner said. "This study suggests that American religiosity may be exceptional not in terms of actual behavior, but rather in terms of identity," noted Brenner.
This American phenomenon has been documented in previous studies, Brenner said, but not on such a large scale. "The most surprising thing," Brenner explained, "was not the size of the gap, but the consistency." The study showed that the gap has remained remarkably consistent over several decades.
A new Gallup poll recently reported that 56 percent of Americans say religion is "very important" in their lives.
What do you think?
Pam Stout coordinates Faith and Home & Garden coverage for AnnArbor.com. Email her at pamelastout@annarbor.com.