Posted on
Thu, May 6, 2010 : 7:41 a.m.
Ann Arbor Church of Christ Neighborhood Church looks to beginning of Christianity for guidance
By Janet Miller
Melanie Maxwell | AnnArbor.com
There is no Diocese. No Synods. No General Conference. There's not even, officially speaking, a reverend.
That was the way of the early Christian Church and that's the way of the Ann Arbor Church of Christ Neighborhood Church, said Karl Luttrell, a member of the church for more than 20 years and an elder for the past 10. The Bible is the only guide for this 200-member congregation, he said.
"We're non-denominational. We're almost anti-denominational. We don't believe there are different kinds of churches. We believe there is just one kind of church, where the Bible tells us what to do."
Members of the Ann Arbor Church of Christ call their building at 2500 S. Main St., near Briarwood Mallm the Neighborhood Church because it reaches out into the community with service projects and allows other faith-based groups to use its space. The Neighborhood Church is the site for an adult day care program offered by Catholic Social Services, the Ann Arbor Hope Christian Reformed Church shares space and 2/42 Community Church runs its youth program there.
The Ann Arbor Church of Christ, Luttrell said, refers to the congregation.
"The church is not the name of the body that meets, the body is the people. In the Bible, the church is made up of human beings. We call the building the Neighborhood Church, but we are still Ann Arbor Church of Christ," he said.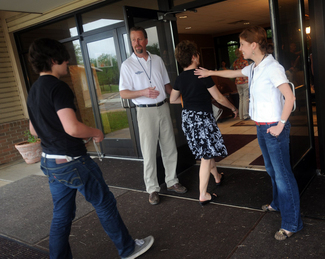 Melanie Maxwell | AnnArbor.com
And they don't have a minister, per se. Darryl Canty acts as the "pulpit pastor," Luttrell said, but terms such as reverend and father are avoided. "Those are names reserved for Jesus," he said.
Canty is simply referred to by his first name and not by a title.
The Ann Arbor Church of Christ was founded shortly after World War II at what was then the YMCA.
"A number of people wanted to have a church that followed the basic philosophy of the church of Christ," Luttrell said. "The Bible became the code book, the rule book, to decide the pattern of worship. We have no senates or organizational structure. Every (Church of Christ) is an independent entity."
As the Ann Arbor church grew, it found a home in a church building on West Stadium Boulevard, across from Pioneer High School, where it became known for an ever-changing message on its large street sign.
But the congregation outgrew that building nine years ago, Luttrell said, and moved a mile south on South Main Street. This time, they had to abandon the signature message because of local ordinances, Luttrell said.

The Church of Christ also eschews other church practices common today: The music is a cappella. There are no instruments, just as there were no instruments in the first church, Luttrell said. And baptism is not done at birth, and only to congregants who have come to it on their own, he said. Then, baptism is total-immersion taking place at the front of the church auditorium.
"We believe that baptism comes when you feel the call, when you understand the call," Luttrell said. "Can you realize this and repent as a baby?"
There have been times when a congregation member's disability prevented them from taking part in the full-immersion baptism at the church, Luttrell said. Instead, they were baptized in the swimming pool of a Washtenaw County hotel.
While Ann Arbor Church of Christ adheres to early church practices, there are other priorities: It tries to be a welcoming congregation, Luttrell said, with a new welcoming program on Sunday mornings inside the newly remodeled lobby where coffee and cookies are served to anyone who stops by.
"We wanted to make it more inviting," he said.
And there's the priority for diversity. Unlike many churches - where Sunday mornings see congregations often divide by race or ethnic background - Ann Arbor Church of Christ's membership is diverse, Luttrell said.
"We have black, white and Latino members," Luttrell said. "'God is no respecter of persons."'