Posted on
Fri, Apr 6, 2012 : 4:49 p.m.
'Following in His Footsteps': Good Friday experience at St. Luke-Ann Arbor
By Carly Parker
When you enter the first room, it looks like an ancient feast that has been abandoned. Draped fabric and pillows, grapes and goblets and a table set for 13 create the scene at the beginning of the experience.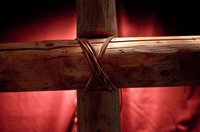 photo by Austin Thomason
St. Luke Lutheran Church will again feature Following in His Footsteps, a Good Friday interactive tour that takes guests through the final days of Jesus' life here on Earth.
"We are excited to offer the experience to the public this year," said Jeff Greunke, director of Worship Arts at St. Luke. "It gives people a chance to join the story — feel, touch and see Jesus' last days. It's really impactful."
On Friday, April 6, from 4-9 p.m., St. Luke-Ann Arbor will be transformed. Rooms will be staged to depict the Last Supper, Garden of Gethsemane, Pilate's Court and even the tomb where Jesus body was placed after crucifixion. Guests will receive a booklet with a narrative for each room, scripture references and devotional thoughts for Good Friday. Additional rooms will be set aside for prayer and meditation during the experience.
"This event is great for all ages; families walk through together and have meaningful discussions. You can take as little or as much time as you want," said Greunke. "Each person will experience it a little differently. It's made to meet you where you're at."
Last year more than 200 people attended the experience and took part in a variety of hands-on activities, which included hammering a nail into the wood of the cross and placing a stone on the tomb.
"We've added a few more rooms this year," said Greunke. "There will be quiet and reflective moments and times that are a bit more cacophonous — much like the actual passion of Christ."
Last year's attendees were deeply moved by the experience; one woman commented in an email, "I had the most thought-provoking moments during the walking drama. From the time I walked through the trampled palm leaves, and heard Peter's sobs… I had no idea what would be next at each turn of the corridor."
Although the experience is focused on the dramatic series of events leading up to Jesus' final day, it's important to note that the story doesn't end there.
"Don't forget to hear the next part of the story," said Greunke. "Get to a church, any church, on Easter so you can celebrate Christ's resurrection, the best chapter in the journey."

_____
Following in His Footsteps: A Prayer and Meditation Experience will be held from 4-9 p.m., Good Friday, April 6. Hosted at St. Luke-Ann Arbor (4205 Washtenaw Ave., Ann Arbor). This event is free and open to the public. For more information, call 734-971-0550.