Posted on
Thu, Dec 30, 2010 : 3:16 p.m.
Local churches look to heal the effects of Communism through Russia With Love program
By Ann Dwyer
After the 2001 terrorism attacks in America, it was almost quaint to think back on a time when children practiced hiding under their desks to protect themselves from Soviet bombs that never came. But the long shadow of Communism still lingers in modern Russia, affecting its people and faith communities, according to John H. Wilhem.
"I don't think people here fully understand the extent of which that system destroyed that society," said Wilhelm, who has a PhD in economics and has studied and traveled the Soviet Union/Russia at various times since the late 70s.
After witnessing the lack of resources for Russian citizens and the poor medical facilities available, Wilhelm began the Russia With Love program through his church, Memorial Christian of Ann Arbor, and with the help of St. Vladimir Russian Orthodox Church in Dexter.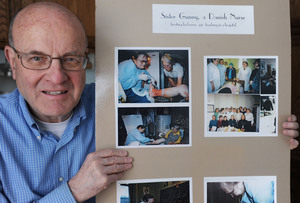 Angela J. Cesere | AnnArbor.com
Russia With Love differs from many charities not only because it is an international program started locally but because of the ingenuity used to accomplish goals within often tight financial constraints.
It is also difficult to fully describe the goals of Russia With Love. At a basic level, RWL works to restore the churches that had fallen into disrepair during the Soviet regime when church-goers often were reported to the government.
Restoring these churches is much more than a physical repair. It also means rebuilding the church communities and the charity work that goes with them.
"If you're going to have ethical healing in that country, I think the church is very important" Wilhelm said.
Nathan Loman, a member of St. Vladimir Russian Orthodox Church, has worked closely with the program this last year. With a PhD in Slavic languages and literatures, he uses his time spent in Russia as a way to connect people in the program. He sees RWL as a way of "fixing negative connections" and that working with smaller, individual parishes helps reach the people who need their help.
"The church community is a good place to start," he said.
But Russia With Love also works with doctors to improve the health care of the people. Using less than $6,000 in funding, RWL brought doctors from Russia to the University of Michigan Trauma Burn Center for training.
"One of the things we learned were that [the Russian] techniques were actually making things worse for burn victims," Wilhelm said, regarding what necessitated the training.
Dr. Stewart Wang, the director of the U-M Burn Trauma Center who assisted with the training, has offered to put up his own money to take U-M doctors to Russia to continue that training.
While much of the organization is done in the United States, it depends on the actions of those overseas.
Connie Meyer, a Danish social worker, and Father Pavel Vishnevsky, a priest with the Russian Orthodox Church, are two of the major contributors to Russia With Love. They not only provide access to the resources the Russian people need, they also provide a spiritual support that had not been openly allowed in decades.
Wilhelm and RWL are hoping to one day expand nursing programs in Russia. Wilhem stated that there is only one nurse for every 300 patients, resulting in many preventable deaths.
If you would like to support Russia With Love, you can do so by donating to Memorial Christian Church, making sure to mark the check for Russia With Love. Send checks to 730 Tappan St., Ann Arbor, MI, 48104.