Posted on
Thu, Jan 21, 2010 : 7:46 a.m.
Dexter photographer's donation helps make senior year memorable for local youths
By Stephanie Fenton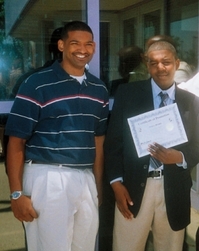 Photo by Charlae Davis
To many high school students, senior year means sparkling class rings, elaborate graduation parties and a glamorous portrait session that will forever capture this time in their lives. Yet for underprivileged youth, senior year can be a struggle both economically and academically , and pressure to keep up with peers' extensive activities only adds to the stress.
That's why Brandon Baugh - co-director of the Youth With a Purpose mentorship program in Ypsilanti - is so grateful to Dexter-area photographer Betsy Finn.
"Our first group of kids is set to graduate from high school this June, and with this in mind, [co-director] Charlae and I began to think of something special we could do for them as a graduation gift. We came up with the idea of trying to get each participant a senior picture, so we contacted Betsy's Photography to check on prices," Baugh said. "When she heard about the program, the kids and how far they had come, she decided to donate over $3,500 worth of senior picture packages. … The kids were overwhelmed with joy and excitement. Many are not able to afford school pictures every year, and some have not had their picture in the yearbook for a number of years."
Baugh and Charlae Davis founded Youth With a Purpose, a nonprofit organization of the Labor of Love Church in Ypsilanti, almost four years ago while they were working at the Comprehensive Studies Program at the University of Michigan. After gathering approximately 20 middle-school students for the program, Baugh and Davis began mentoring the students and providing help with school work. Baugh said the program has grown to include approximately 30 members.
"When our program began three years ago, many were in difficult situations at home, their academic performance was very low and many were in trouble with the law," said Baugh. "I'm happy to say all of these issues have been resolved; it's like they are completely different people now."
This June, the first two Youth With a Purpose students will graduate from high school. They will also be the first from the group to receive free senior portrait sessions.
"I believe it's important to give back to those in our community; to share the talents I have been given," Finn said. "I really do believe that everyone deserves to have their memories captured, and that senior portraits are a big part of creating a legacy. Senior portraits aren't just a sign that you're done with high school; they have become a personality statement. For many families, these senior portraits remain on display until replaced by wedding portraits."
Many parents were just as overwhelmed as their children by Finn's gift.
"One parent was so overcome with joy that she began to cry," said Baugh. "She said that Betsy's donation was truly a gift from God."
In 2014, the final seniors in the initial group of Youth With a Purpose will receive their photos from Finn and graduate. As these students move on, Baugh expects to reach out to others, specifically targeting minority students in the greater Ann Arbor Area. Baugh said his approach gets results. "It's not always about a structured event; it started out casually, where we'd say, 'Let's watch the basketball game,' and then we'd begin to bond, and begin talking about issues," said Baugh. "When these kids realize you have their best interests in mind, they actually want that - they are looking for role models. I treated them with respect, as adults, and they did the same with me."
Stephanie Fenton reports on faith for AnnArbor.com. Stephanie can be contacted at Fenton.Stephanie@gmail.com.