Posted on
Wed, Mar 28, 2012 : 2:13 p.m.
Start your week inspired - Experience Gelek Rimpoche's wisdom every Sunday
By Jewel Heart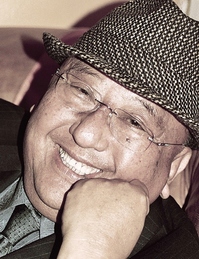 Happy Spring to you all!
Word seems to be spreading about the weekly 10 a.m. Sunday morning talks with Gelek Rimpoche at Jewel Heart in Ann Arbor, with the audience growing in number week by week!
Following Rimpoche's inspiring, humorous and thought-provoking words of wisdom, the building is abuzz with conversations and laughter as people continue the conversation begun by Rimpoche and catch up on what's been happening since they last saw each other. The Jewel Heart dining room is definitely the hot spot with everyone sampling the very tasty treats and sipping on their coffee and tea.
This past week Rimpoche reported back from San Francisco on his participation in a symposium — 2012 Being Human: The Science of Human Experience. He was there along with many distinguished scientists presenting their findings on the human experience.
Rimpoche shared a bit about the presentations on the Perception and Reality Panel with Dr. Ramachandran's report on mirror imaging (UC San Diego Center for Brain and Cognition - http://www.cbc.ucsd.edu/) and studies shared by Dr. Thomas Metzinger (Association for Scientific Study of Consciousness - http://www.theassc.org/).
Rimpoche was delighted to tell us how he enjoyed that the scientists' studies today continue to confirm what the Buddha discovered 2,600 years ago, as well as how wonderful it is that Buddha's message had been authentically preserved and reliably passed on to the world today. He had a lot to say about the importance of reliability.
He also reminded us that being human brings us to the topic of being a good human being and challenged the misconception that bettering ourselves materially makes us human, saying studies and simple observation shows that even the animals can do that.
Rimpoche also pointed out that defining what is good can be debatable since a crook can look at means to accomplish his goals as something 'good'. He emphasized that the line drawn between good and bad is not just about being helpful; it is also about not being harmful.
Rimpoche suggested the barest minimum goal for our human life is to be kinder and gentler, which he often reminds us is our basic human nature, and to be without hatred. Rimpoche highlighted the importance of reducing, and trying to eliminate, our negative emotions so the positive qualities can flourish.
Each week, there is some point, if not many, to take home and chew on. It helps with all those glitches that come up during the week, serving as a touchstone when wondering "Now what do I do?!"
I can't wait to see what next week's talk will cover. No doubt my Sunday morning friends at Jewel Heart feel the same way!