Posted on
Tue, Feb 7, 2012 : 4:45 p.m.
Valentine's Day is the perfect time to recommit to your marriage, create quality 'date night' with your spouse
By Carly Parker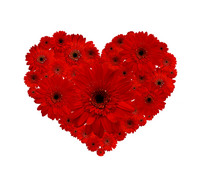 photo courtesy of Microsoft
Married for 27 years, Judy Maynard and her husband Mike know that marriage is not always chocolate and roses. Taking a page from experience, they're on a mission to use what they've learned to help others reconnect and strengthen their relationships — and sometimes that takes a good date night.
"The kids, the house, our work — urgent things — call to us," said Judy Maynard. "This often leaves God and our marriage getting the second string of our attention, leading to a huge deficit in our relationships with each other."
Although time spent together is an obvious fix, it's not always easy to squeeze in quality time with your spouse. We have expectations of each other, but if we don't build each other up, our tanks can get empty. We take care of so many things, but we don't fill up our marriages.
For the past several months, the Maynards have been leading Bible Studies at St. Luke-Ann Arbor that focus on marriage and relationships. Exploring books like 10 Great Dates, Love Dare and most recently I Love You More by Drs. Les and Leslie Parrott, they are hoping that people will start investing more in healthy marriages.
"Marriage is not easy. It's full of uncomfortable compromises," said Maynard. "We are hoping that by giving people ways to work on marriage, and communicate with each other, more marriages will thrive."
In addition to teaching, the Maynards wanted to find a way to bless couples outside of the classroom. Combining their passion for couples, and 16 years of experience in catering and event planning, they decided to sponsor a Valentine's Day Dinner Dance at St. Luke-Ann Arbor.
"This event is an elegant way for the community to celebrate date night," said Maynard. "Even if you didn't take a class, this is a time for couples to renew their marriage by putting it first and reconnecting with each other — also childcare is included!"
The event, to be held at 6:30 p.m., Friday, Feb. 17, features a three-course-meal by Angel Food Catering and dancing to a DJ.
"People will be able to request their favorite songs and hold each other tight on the dance floor," said Maynard. "Hopefully an evening out will be a great way to inspire couples to make time for each other. We just really want this to be a blessing!"
Tickets to the Valentine's Day Dinner Dance cost $60 per couple which includes dinner, dancing and childcare (kids will have activities and a pizza dinner). Tickets must be purchased in advance. To view the menu and details of the event, please go to: stlukeaa.org/slaa.
Carly Parker is the Communications Coordinator for St. Luke Lutheran Church and its affiliated sites, including the Common Cup a full-service coffeehouse located in the lower level of University Lutheran Chapel.