Posted on
Mon, Mar 5, 2012 : 5:57 a.m.
Complementary therapies help Arbor Hospice provide well-rounded complete care
By Alan Caldwell
We really were Everything Elderly on the radio show this past weekend with several wonderful senior topics. First, Michelle Chaves-Torres from Arbor Hospice talked about her role as the complementary therapy coordinator. Michelle and her fellow therapists help provide comfort and relief as part of the end-of-life care at Arbor Hospice. The complementary therapies include pet, art, music and massage therapy.
Alpine is their new pet therapy dog and, having met Alpine myself, I can agree with Michelle — this golden retriever is "the sweetest dog you'll ever meet." As Michelle shared, their patients pet Alpine and immediately smile and get a warm feeling.
Music therapy calms anxiety and provides stress relief. The therapy may be simply listening to music, or frequently patients become active participants and play the bongos, tambourine or piano. The families enjoy the music therapy as they can see their loved one really feeling good and being more comfortable.
Art therapy uses the creative process of art and is particular beneficial to families in the grieving process. This therapy can provide physical, emotional and mental well-being. Creating memory books may help process the death of a loved one.
For hospice patients, massage therapy uses a very light and compassionate touch that is nurturing and relieves pain. Michelle is a massage therapist, and many of her patients have edema, swelling in their legs that can cause considerable discomfort. Massaging the legs, patients often feel instant relief. Michelle also educates families on how they can touch their loved ones in a soothing manner.
To listen to our 13-minute talk, click the audio link:
To get in touch with Michelle or Arbor Hospice, call 888-992-CARE (2273) or visit their website arborhospice.org.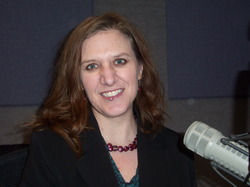 Photos by Sheila Doeden
We were so pleased to also have Beth Adams on the show. Beth is one busy woman these days, serving as the director of both the Ann Arbor Meals on Wheels and the Housing Bureau for Seniors.
Meals on Wheels delivers to the home-bound in Ann Arbor, regardless of age or income. Up to two meals a day are delivered, a hot entree meal and a sack lunch (Saturday deliveries can include an extra meal for Sunday). Meals are provided at no cost, although voluntary contributions are suggested.
Deliveries are handled by volunteers, and Beth said they always need more volunteers. Besides providing tasty nutritious meals, the socialization aspect of the delivery service is important. Beth shared that one client said, "The food event and the social event are each in their own way the most important event of the day for lonely elderly folks."
The Housing Bureau for Seniors offers an array of important services to assist older adults in Washtenaw County find and maintain affordable housing. The recession has impacted seniors and high-lighted the need for the eviction prevention program. Additionally, the foreclosure prevention program helps people stay in their homes, and post-foreclosure assistance helps those transitioning to a new home, usually an apartment.
We had time for a quick mention that Senior Living Week is coming up in May. This kicks off with the Expo at Washtenaw Community College on Friday, May 11. Organized by the Housing Bureau for Seniors, this is truly a one-stop shop opportunity for caregivers, families, and professionals. Look here for more information as we get closer to the big event.
To hear this 13-minute discussion, click the audio link:
To get in touch with Beth or Ann Arbor Meals on Wheels call 734-998-6686, or the Housing Bureau for Seniors at 734-998-9339 (click on their high-lighted names to jump to their websites).
Alan Caldwell and Sheila Doeden co-host Everything Elderly every Saturday morning at 8:30 on 1290 WLBY. In their day jobs, Alan and Sheila co-own and co-manage Senior Helpers, providing in-home care services, primarily to the elderly. Both can be contacted at homecareexcellence@seniorhelpers.com, or at 734-927-3111.